Latest NFL Leads
USFL Helmet Cam Shows WR Isiah Hennie Getting Hit So Hard His Tooth Falls Out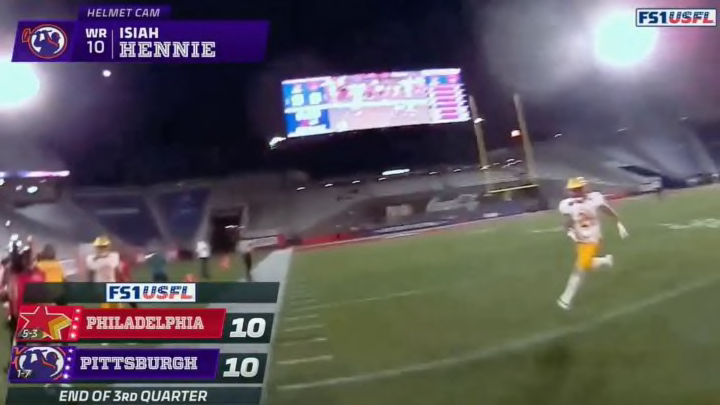 Helmet Cam /
There was Sunday Night Football this weekend of a sort as the USFL season continued with the Philadelphia Stars taking on the Pittsburgh Maulers. As an experimental football league, the USFL is trying a lot of new things. One of which is a helmet cam attached to the skill position players so the fans can see what the athletes do on the field.
It is a cool idea but it's tough to get many highlight moments because things move so quickly during plays. Last night, though, the helmet cam showed what it was like to get upended by a defender flying in at high speed. Pittsburgh wideout Isiah Hennie caught a pass on a crossing pattern and turned upfield, where he was met head-on by Philadelphia defender Cody Brown.
The camera panned to Hennie on the sideline afterwards and he was captured spitting out a tooth dislodged from the hit.
Talk about a big hit. But we need not worry; Hennie told his teammates on the sideline that it was only a wisdom tooth.
An ideal marriage of technologies dentistry at hand here.