USC Doesn't Intend to Pay Steve Sarkisian After Firing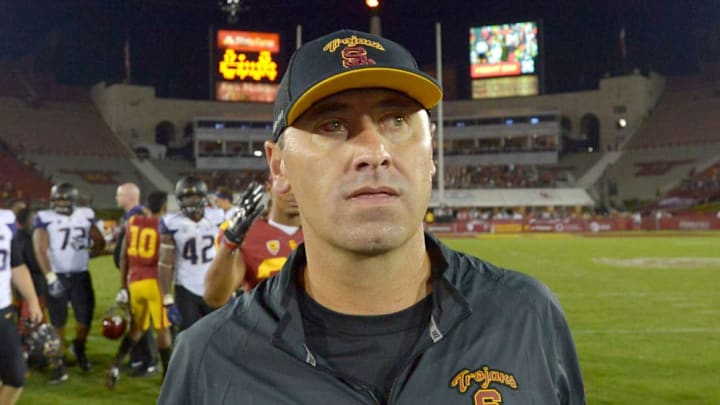 USC doesn't believe it has to pay fired coach Steve Sarkisian for the remaining three-plus years left on his contract, according to an ESPN report. The school dismissed Sarkisian on Tuesday after just 18 games at the helm.
"A school source told ESPN's Shelley Smith that [athletic director Pat] Haden had instituted what was, in effect, a zero-tolerance policy concerning alcohol use with Sarkisian. When Sarkisian showed up to meetings Sunday seemingly intoxicated, that was a violation of the agreement, and it resulted in Sarkisian's dismissal."
It appears the school's stance is that the firing was for cause — which would mean it's off the hook for the remaining money in Sarkisian's contract.
It's unclear if Haden's "zero-tolerance" policy is written into the contract. Its presence or absence would seemingly have a significant impact on how this whole thing shakes out.
The Americans With Disabilities Act, which provides protection from employers firing employees due to an illness, apparently wouldn't cover Sarkisian in this instance.
Here's where it gets interesting — and potentially more ugly.
Is it possible the ubiquitous leaks and expedited firing were part of a plan to get the coach out before a diagnosis of alcoholism could be done in rehab? Admittedly, that's just speculation. On the other hand, do we put anything past Haden at this point?