'Undisputed' Showed Bronny James' Dunk 34 Times in a Prolific 11-Minute Segment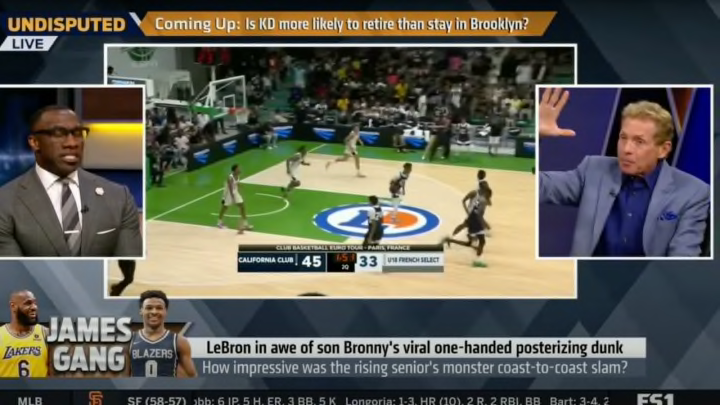 Skip Bayless found a new way to troll LeBron James on Monday night when he tweeted about a great dunk his son, Bronny James, pulled off in a game in France. You could be forgiven if you assumed the tweet was a one-off joke that Skip couldn't resist putting out into the world, but boy would you be wrong. As usual, Undisputed turned a ridiculous Skip tweet into a whole lot of content. I mean, a lot. They made the entire damn 10-minute-plus A-block about Bronny with Skip going so far as to say LeBron's eldest son was "going to be a focal point for this show and to everybody else from this point forward."
I guess this is what we do now. I am now certain that if Skip had been working last week they would have done five minutes on Bronny touching Earth while playing good defense. This is the future. It doesn't matter if Bronny is or isn't. Skip Bayless will make it so.
When you consider how much blood they squeezed from this stone it makes sense. Since I get paid to do dumb stuff like this I counted how many times they showed the dunk during this segment. It was 34. Thirty-four. It was a loop of three angles. (Only two angles were shown the first and last time.)
So settle in Undisputed fans. Prepare to get to know Bronny James intimately.