Behold, the Worst Missed Call of the 2023 MLB Season
This was just laughably bad umpiring.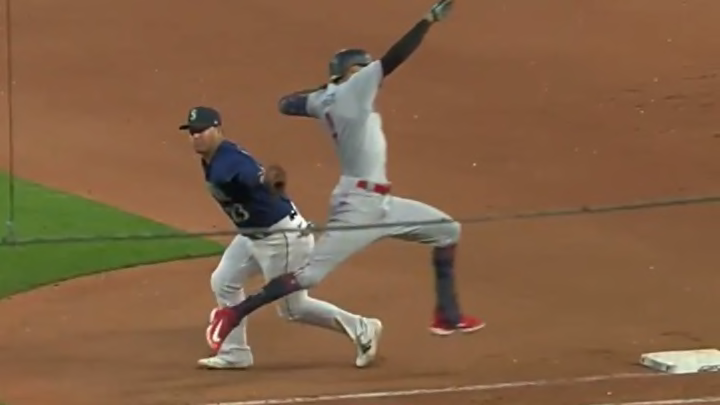 We've ripped MLB umpires a lot on this website over the years, mostly because they're terrible and consistently getting worse. But we may have never had such stark evidence of how bad they are than we got on Tuesday night during a matchup between the Minnesota Twins and Seattle Mariners. The umpires missed an obvious call at first base and, for some reason, replay couldn't correct the mistake. It was mind-boggling.
In the top of the seventh inning, the Twins led 8-3 with Carlos Correa at the plate. There was one out and the bases were empty as the shortstop faced Tayler Saucedo. On a 1-2 pitch, Correa grounded to second and the throw from Seattle's Jose Caballero's throw drew Ty France off the first base bag. France tried to sweep tag Correa as he ran by, but clearly missed. It was obvious. You know what happened next.
First base umpire Sean Barber called Correa out, and none of the other umpires stepped in to help him. The Twins challenged and on repay it was clear France missed the tag, but for some reason the big brains in the MLB replay center didn't overturn the call.
Here's the replay:
I just don't understand the point of replay if they can't even overturn something that obvious. It should have taken 30 seconds to flip that call.
Luckily it didn't impact the result of the game. The Twins won going away, and Correa got his revenge in the top of the ninth inning when he blasted a home run to left field.