Latest NFL Leads
Keyshawn Johnson Addresses Tyreek Hill Beef on 'Keyshawn, JWill, & Max'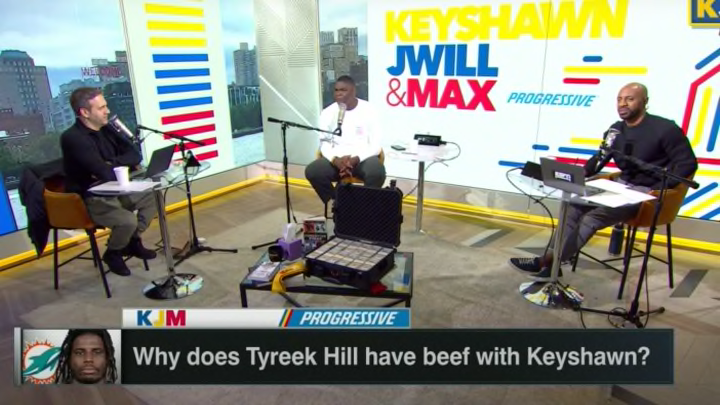 ESPN /
In today's edition of unexpected conflict, it seems Tyreek Hill is not a fan of Keyshawn Johnson. The Miami Dolphins superstar sent out his thoughts on the ESPN personality via a simple, slightly misspelled tweet on Tuesday.
Tough to find better content out there than two star wideouts with beef, so the tweet got a full segment on this morning's edition of Keyshawn, JWill, & Max. The three attempted to dissect the conflict and try to figure out why Hill is coming after Johnson before ultimately determining the Dolphins wideout is defending his quarterback.
The timing does line up. Hill tweeted at Johnson because he had the audacity to say he needs more evidence to suggest Tua Tagovailoa is a surefire Top-5 QB on First Take yesterday.
Hill has certainly gotten a lot more chatty since leaving the Chiefs and isn't afraid to start a fight with anybody. But when you walk the walk you can talk the talk. Hill is on pace to have one of the greatest receiving seasons of all time. If anybody can feel justified about angry-tweeting ESPN personalities, it's the superstar receiver. Johnson should know that as well as anybody.