Man in Black and White Prisoner Pinstripes Arrested For Running Towards Donald Trump's Motorcade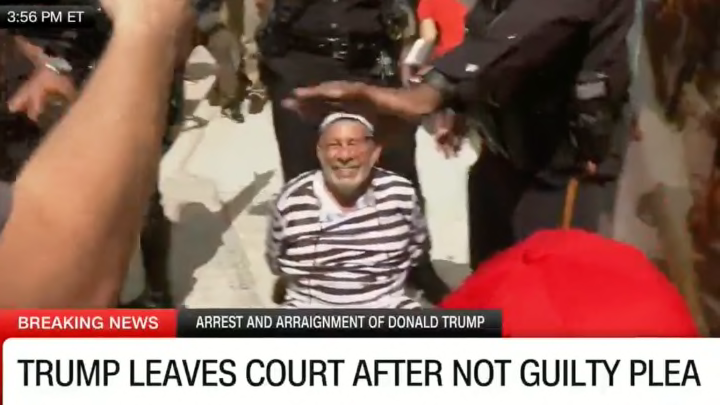 Donald Trump was arraigned at a Miami courthouse on Tuesday on a number of federal charges. The former president pled not guilty and was released without bail so that he may return to the golf course of his choosing to await trial. As he left the courthouse in a motorcade, a protestor wearing an old-fashioned black and white pinstripe prisoner uniform ran towards his SUV as Trump waved and flashed the thumbs up. The man was quickly taken down by police and arrested. CNN's cameras caught the brief bit of chaos.
Overall it was a pretty calm affair when people weren't chanting "F--k CNN." Trump showed up, was asked to do the bare minimum and left. There was a healthy crowd there, but it doesn't appear there were any serious incidents, aside from the guy from Oh, Brother, Where Art Thou?, obviously.
Alina Habba, one of Trump's other lawyers, was also there, acting as a spokesperson. She gave a statement which CNN's Jake Tapper called, "a lot of crazy." All-in-all, a classic MAGA gathering.
The next court date has not been set, but it will supposedly be a "speedy trial," so prepare for more scenes just like this in the coming months.