Tristan Thompson Said He Texted Kyrie Irving About Reuniting On the Lakers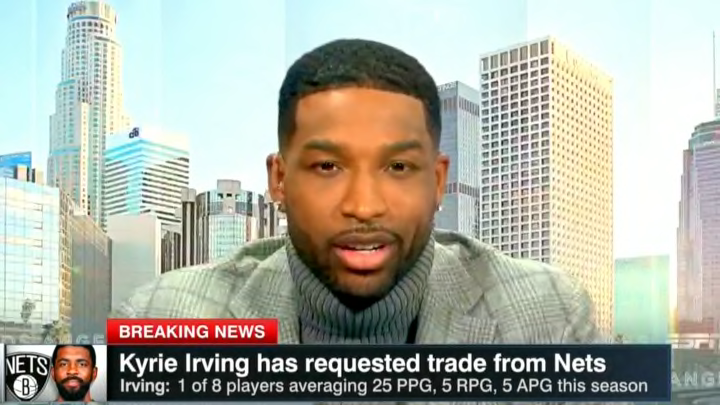 Tristan Thompson recently started working at ESPN. Thompson, 31, made his debut on NBA Today on January 26th and quickly made his mark by saying that LeBron James deserved MVP consideration if he could get the Lakers to the six or seven seed in the Western Conference.
Today Thompson joined Max Kellerman to discuss Kyrie Irving's latest trade demand and why he would be such a great fit on the Lakers, reunited with LeBron James. Thompson even managed to put it out there that he was interested in getting the band back together.
"I texted Kyrie, I said let's get the gang back together. Let's make it happen on the West Coast."
It seems Thompson is ready to fill a roster spot in LA should the Lakers have to make a 2-for-1 deal for Kyrie. It's not really a surprise that he would be interested, but announcing that he wanted to do so live, on-air on ESPN in his second week on the job is certainly a choice.
Thompson averaged six points and five rebounds in 15 minutes per game last year. He played 57 total games for three different teams.