Tom Brady is Spending the Day Watching His 28-3 Super Bowl LI Comeback Win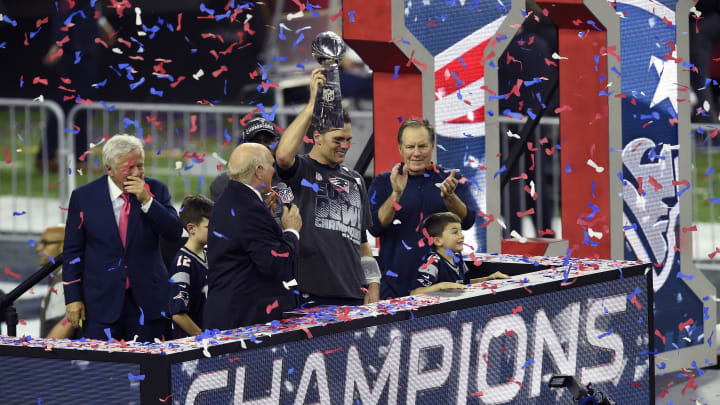 Tom Brady holds the Lombardi Trophy after the New England Patriots win Super Bowl LI against the Atlanta Falcons / Focus On Sport/Getty Images
Tom Brady may no longer be a member of the New England Patriots, but that doesn't mean he can't still relish his accomplishments with the team. On Sunday, FOX re-aired Super Bowl LI, which was legitimately one of the craziest NFL games of all-time. And yes, Brady is watching.
In case you don't remember, the Atlanta Falcons took a 28-3 lead over the Patriots with 8:31 left in the third quarter. Brady and New England then mounted a 25-point comeback before winning in overtime 34-28. It was the biggest comeback in Super Bowl history, so it's not surprising Brady would want to relive it.
Of course Tom Brady is going to watch this. We'd all watch it. It's the crowing achievement of his storied career.
Let's be real, if I led a 25-point comeback in the Super Bowl that video would be playing on a loop in my house at all times. I'd bring it to the attention of anyone who walked in for the first time and ask them if they wanted to watch.
This is completely normal behavior from Brady.