Tom Brady Is Not Coming Back to the Patriots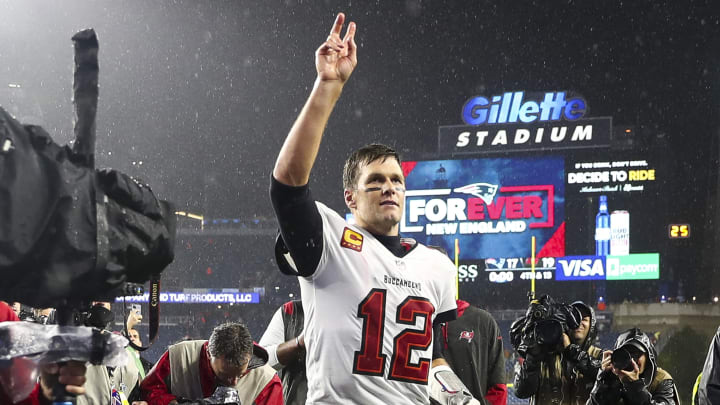 Tom Brady / Adam Glanzman/GettyImages
On Wednesday, The Athletic's Jeff Howe kicked the hornets' nest by suggesting Tom Brady could maybe return to the New England Patriots this offseason once he hits free agency. The article in question here, titled "Brady to Patriots? Rodgers to Jets? Let's explore what could be another wild NFL offseason at QB," is not based on Howe's insider reporting. It is not sourced. It is a speculative article whose sole purpose is to break down the juiciest end possibilities for this offseason's crop of high-profile quarterbacks.
Howe makes this clear. And yet! Due to his current position as a national NFL reporter and his past as a Patriots beat writer, Howe's writing has sent the Brady-back-to-the-Patriots conversation (previously nonexistent) into overdrive. And I hate to pop the bubble before we can really get started, but there is no chance in hell Brady comes back to New England.
The reasoning for his potential return in The Athletic's article is basically that you can never count the Patriots out of doing anything, no matter how insane it may appear. Which is true. It is quite likely there is no animosty between Bill Belichick and Brady, no matter how much we the people wish it to be so, and lord knows Robert Kraft would be over the moon paying Brady a king's ransom again to play at Gillette Stadium.
But why on Earth would Brady want to do that? Sure, he'd be treated like Odysseus returning to his kingdom but he's never been in the NFL for that sort of thing. Brady is still playing because he has to prove he can still win, a never-ending quest that loops over and over. And the current makeup of this Patriots team is almost the exact opposite of what Brady wants and needs.
The offensive line is an embarrassment. Mac Jones has been sacked on 9.3 percent of his dropbacks, which ranks 32nd in the NFL. Brady needs a clean pocket to operate and the fact that he hasn't had that in Tampa Bay this year is playing a big role in their struggles. In fact, the entire offense is not up to par. The skill positions are better stocked than when Brady was last in a Patriots uniform but they have no explosive playmakers. If Brady is going to voluntarily leave Mike Evans and Chris Godwin, the new team better have similar stars. The Patriots do not. Outside of Rhamondre Stevenson, who is perfect and can do no wrong.
Then there's the offensive playcalling, which makes the offensive line worse because it doesn't play to its strengths. And do you know who is in charge of both the offensive playcalling and coaching the offensive line? Matt Patricia. The pencil man. The Patriots' offense isn't overflowing with difference makers and Jones hasn't been perfect. But anybody who has had the displeasure of watching New England operate on offense this year knows Patricia is actively hamstringing the unit. He insists on running the ball on first down. The red zone playcalling is atrocious. It took him until Jones got hurt to remember play action is a thing that NFL teams are allowed to use. Brady is not going to sign up to work with a guy like that. If you thought he went nuclear on Josh McDaniels, wait until Patricia throws his fifth tight end screen on third-and-five.
The defense is back to being pretty good. Belichick would probably hire actual coaches instead of letting Patricia and Joe Judge run the show if Brady were to return. Part of the premise that the Pats could bring Brady back is the large amount of cap space they'll enjoy this offseason and can invest in problems like the offensive line. You can see the bones of a theoretical future in which Brady returns to his kingdom.
But it will not happen. There's too much that needs to happen to make him feel comfortable with the idea. There's no reason to pick New England over another team like the 49ers, who have the existing infrastructure he's looking for. There's also no reason to sign up to have to duke it out with the Bills for the division crown. There are paths of lesser resistance that come with the added bonus of a better roster.
Brady will not return to the Patriots. Even if it would be tremendous content.