Tiger Woods Makes Fun of Old Swing After Finishing Genesis Invitational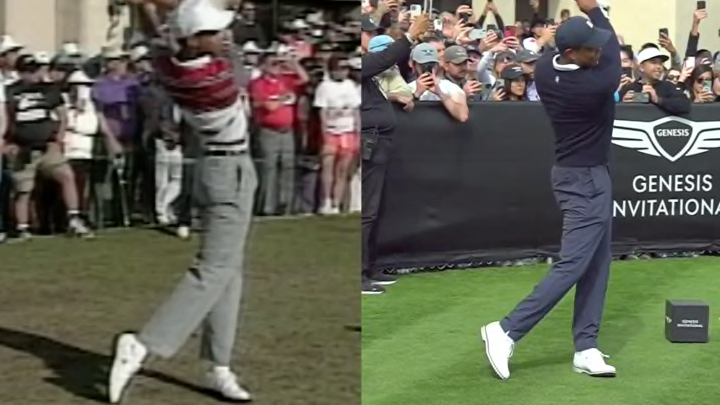 Tiger Woods /
Tiger Woods played in his first tournament in nearly three years this weekend. He played the Genesis Invitational and did pretty well for a guy who had been absent for that long, finishing at -1 on Sunday.
After the round, Woods sat down on CBS to discuss how he was feeling after the hiatus and where he feels his game is at. To aid the conversation a side-by-side of Woods swinging way back in the day vs. Woods swinging this weekend was shown and Tiger poked fun at his young self (at the 2:00 mark of the below video):
It's nice to see Tiger having fun. The last few years have felt so serious for the legendary golfer between how difficult it was to get back on the course and then all the LIV stuff. And, you know, COVID and all. This feels like the lightest tone we've seen from him in a press appearance since his Masters win in 2019.
The press pass on the pants is a hilarious rookie mistake, too.