The Year in Mike Francesa 2017 Tribeca/ESPN Film Festival After Party For 30 For 30: Mike & The Mad Dog Sponsored By Mohegan / Noam Galai/Getty Images
Did you know, as of Dec. 31, The Big Lead published (hope you're sitting down) 35 posts with Mike Francesa as the main subject in 2014. That doesn't even take into consideration our March Media Madness poll where the Sports Pope finished No. 1. The numbers didn't lie: you guys simply couldn't get enough of New York's No. 1. In turn, we were happy to oblige, truly.
Of course, it wasn't all positives for the big guy. His simulcast was dropped by the YES Network in February and then revived by Fox Sports 1, where it's been anything but a happy marriage and often preempted by other events, notably soccer and NASCAR.
Without any further adieu (since everyone reading this is dying to post positive, heart-warming comments below), here's a list of our favorite Francesa moments from 2014.
Jan. 3 — Mike deals with a Jerry Sandusky prank caller as only he can.
Jan. 17 — Mike finds out the details of Kellen Winslow's ratherembarrassing arrest live on the air.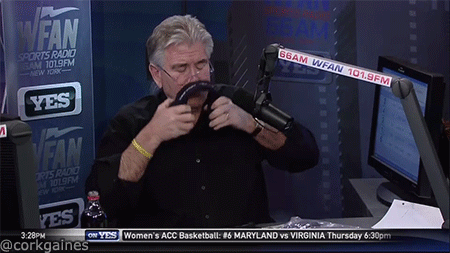 Jan. 21 — Mike receives a Super Bowl prize pack, struggles with the ear muffs and assures you he wouldn't watch New Girl if you paid him.
April 10 — The video is gone here thanks to CBS, but for a brief afternoon Mike's show turned into a really pompous version of the Dating Game.
June 17 — Mike gets wrapped up in World Cup fever and asks the question on the tip of everyone's tongue: do guys kick the ball with both legs?
Late June/July/Early August — Mike takes a summer vacation.
Aug. 21 — John Calipari comes in studio as a guest. Mike trashes his Xs and Os after he leaves, which prompts a call from "John from Kentucky" … whom he subsequently thanks for the call while hanging up on him.