The Future of Sports Media Is Stephen A. Smith Answering Questions About His Sex Life From Ballsack Sports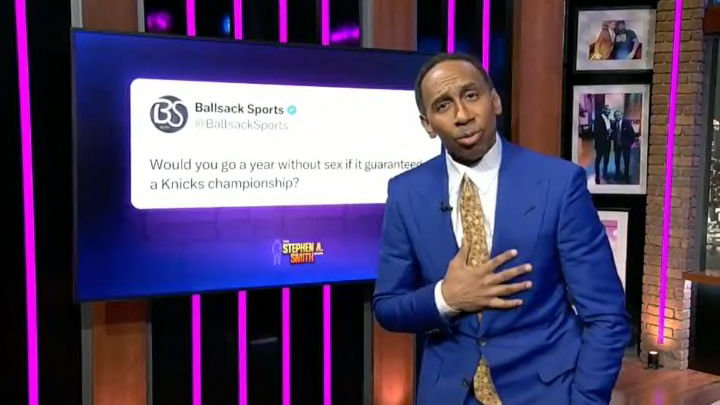 For months now we've been imploring you to check out the Stephen A. Smith Show and dutifully posting the outrageous clips that emanate from that eponymous program. Because it's a place where they really do talk about anything and Smith can cook unencumbered from those family-friendly four letters. It's a place where a viewer can hear the host call another host a fat, no-good bastard who he despises to the core, get expert insight into the best and worst days of the week to be horny, and, most importantly, learn what type of music Smith likes to listen to when he gets freaky.
Now to be clear, we know this show is on YouTube but would be hard-pressed to tell you what the broadcasting schedule looks like week to week. We also have no feel for how it's doing, yet to steal a line from a particularly wet former president, it's the name of a show you're hearing more and more as people realize that Smith's created quite a little playground for himself over there.
To the point where — and don't laugh — it's worth wondering if the Stephen A. Smith Show is the greatest thing he's ever done. Because he's had solo vehicles before (dating back to Quite Frankly with Stephen A. Smith, which debuted in 2005) but never has one captured the moment like whatever the hell he's doing right now.
The logical end game for so many of sports media's brightest stars has been some sort of late-night talk/variety show. Back in 2021, Smith guest-hosted Jimmy Kimmel Live and performed quite admirably. Just last year he expressed his desire to take over for Kimmel. Perhaps a few years ago we thought he couldn't do it. That's changed. In fact, he's sort of doing it right right now.
Late-night shows have really taken it on the chin recently. Ratings and cultural importance are dwindling. Audiences are far more interested in watching the viral segments the next day or whenever they get around to it so the entire genre has expanded to include offerings that come on after the 11 p.m. local news. The Stephen A. Smith Show now fits under that umbrella.
It feels like he cut out the middle man and went around any gatekeeping to create the type of wide-net program he had aspirations to host. Actually, host is not the most correct verb because what Smith does to this show — hell, any show — is to get behind the wheel and punch it to 88 mph so he can bring everyone to a place that doesn't need any roads or guardrails.
At times the playful and envelope-pushing absurdity obscures this. Like, no one else who will wake up this morning to see that Smith spent over four minutes giving a virtuoso performance in response to a question from Ballsack Sports will use it as a jumping-off point as a thinkpiece on the state of sports media. And maybe no one should. But it feels like a moment.
Smith may not be everyone's favorite talking head. Which is perfectly fine because his gift is to engender strong positive and negative reactions. What he is, though, is one of the most talented television performers of his generation and perhaps unmatched in ESPN's history. He's inspired so many imitators and knockoff, arguably producing a negative effect on the entire history. One of the problems is that those who follow his blueprint just can't do it half as well as the original.
We defy you to say this content is anything but wildly entertaining. We'll concede that, yeah, maybe it's stupid and unchallenging. Who cares?
Who cares when you're watching someone at the top of their craft and the peak of their powers parlay it into a playground where they set every rule? Something like that doesn't come around often — and will come around even more frequently as the sphere becomes even more fractured by excessive choice.
Labels are hard and boundaries blur yet there's a strong argument to be made that this show — as silly as it may be based on the breakout videos — is the most interesting thing Smith has ever done. That it's a passion project on top of a work week that has him seemingly on camera 17 other hours a day makes it even more impressive. Laugh and joke all you want but this man has created something it sounds like he's always yearned to create on his own terms and perfectly calibrated to amplify that magical quality of being Stephen A. Smith.
Strange times? Sure. At least they are fun.