Latest Mlb Leads
Tennessee's Jordan Beck Flips Off Georgia Tech as He Rounds First Base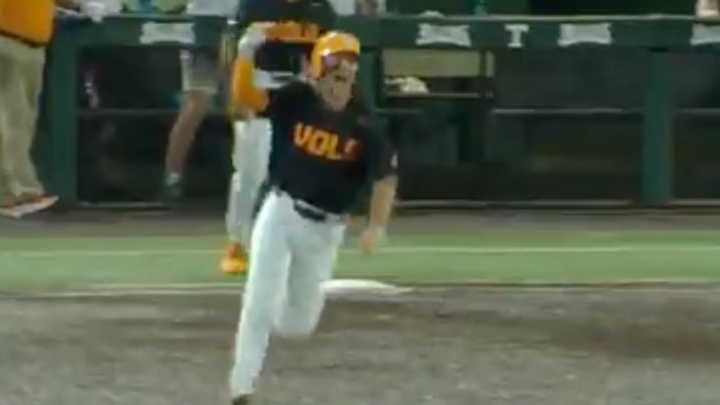 If you were distracted by other sports or by household chores this weekend and did not catch all of the college baseball on television, it's your loss. Thankfully, there are more win-or-go-home games today and next weekend will be similarly jam-packed with high-octane action for you to snort. One could make the argument that these are the two most intense weekends of the year and ESPN does an excellent job capturing the ridiculousness with their Squeeze Play presentation.
For a taste of what you may have missed, here's what went down in the Tennessee-Georgia Tech game. Volunteers right fielder Jordan Beck collecting a game-tying double in the top of the ninth, which saw the home team score six runs to seal their place in the Super Regionals. See if you can pick up on the subtle message he sent to the Yellow Jackets.
He appears to let them know that Tennessee is No. 1.
If you're looking for something to do that will make your brain hurt, go ahead and dive into the discourse surrounding this middle finger. No one does class vs. trash conversations better than college baseball fans riding high on emotion. Twenty minutes in the back and forth will have you concluding that they shouldn't play these games in front of human beings or put them on television.