A Conversation with Taylor Rooks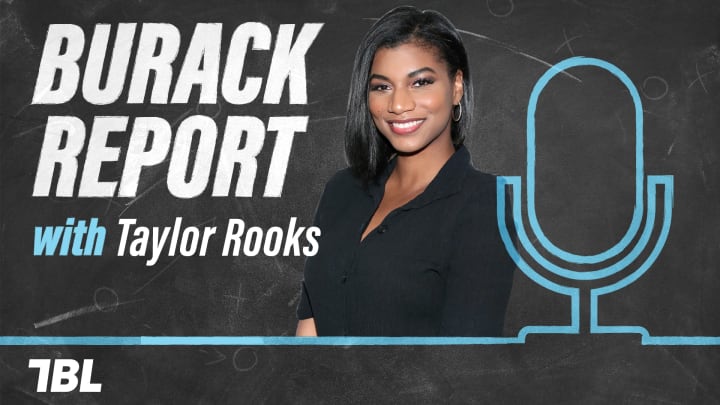 Taylor Rooks talks to The Big Lead. /
Taylor Rooks joins the podcast this week. We discuss season two of Take it There, how she got her own show, what is success, interviewing Kevin Durant, if her dream job currently exists, starting her podcast, if she is an audio editor, who needs a podcast (Hint: Beyoncé), binging a show vs. watching it weekly, what happened to Tony Soprano, if digital shows can ever eclipse television, who she looks up to, why she is mad at Game of Thrones, and more.
Listen: Below | Download: Here
Listen and subscribe on iTunes. Previous guests have included Curt Menefee, Nate Burleson, Joy Taylor, Matt Barrie, Ryan Ruocco, Jenny Taft, Damien Woody, Kate Abdo, Adam Anshell, Charles Davis, Abby Hornacek, Renee Young, Mark Kriegel, Robbie Fox, Mike Coppinger, Paul Finebaum, Dan Patrick, Colleen Wolfe, Michael Wilbon, Jen Lada, Peter Burns, Adam Schefter, Rachel Bonnetta, Kenny Albert, Tim Brando, Kevin Burkhardt, Marcus Spears, Dianna Russini, Maria Taylor, Michael McCarthy, Chris Mannix, Jason Martin, Chris Haynes, Adam Schein, Matthew Berry, Michael Buffer, Erika Nardini, Sage Steele, Ashley Brewer, Field Yates, Mike Florio, Dave Portnoy, Laura Rutledge, Ramona Shelburne, Ian Rapoport, Mina Kimes, Molly Qerim, Will Cain, Jorge Sedano, and more.