Karl Ravech Got to Call a Goal in Edmonton During Sunday Night Baseball at Fenway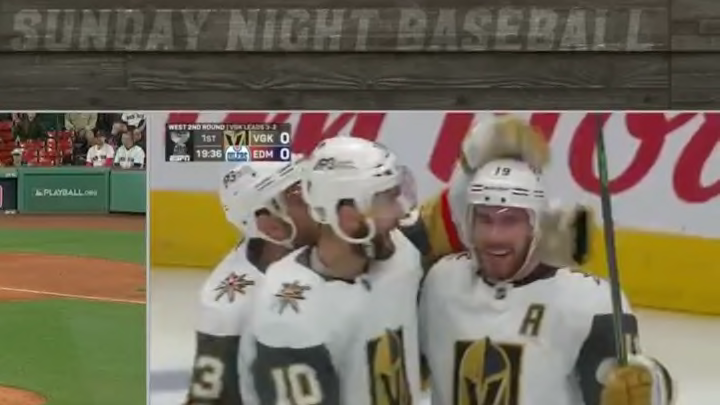 There was one Stanley Cup Playoff game yesterday and it didn't start until 10 p.m. ET for some reason but that's okay because it provided ESPN's Karl Ravech the opportunity to do a little play-by-play of the Las Vegas-Edmonton tilt from his comfy perch atop Fenway Park, where Sunday Night Baseball was happening.
During a live-look to inform everyone the puck had been dropped and to encourage them to stick around after the ninth inning, Reilly Smith got the Golden Knights in the board just 24 seconds into what would ultimately become a series-clinching romp.
Ah, the timeless art of the live look-in. It's 2023 and we all have everything we'd ever need on-demand at all times and the opportunity to tailor our own viewership and yet these still feel special.
Now, I actually didn't find these nearly as exciting or impressive as some other sports bloggers who love hyperbolic headlines but it was nice work by Ravech and the type of cross-sports synergy ESPN should be proud to showcase. Everything is working as planned.
Except for the Edmonton Oilers and the entire country of Canada, which once again will not be bringing Lord Stanley home.