Steve Kornacki Rifled Through a Ridiculous Amount of Papers to Find Something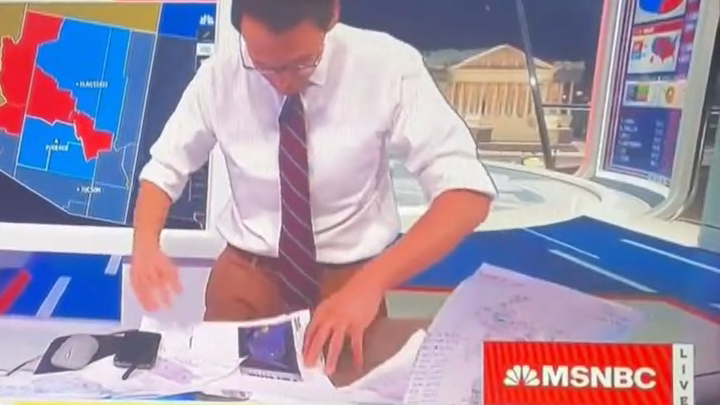 Steve Kornacki become an important part of our democratic process in recent years, showing up every two years on MSNBC for a double shift combing though all the data so stressed-out people at home don't have to embarrass themselves confusing congressional districts and trying to remember if Trump ran ahead of Romney or if it was the other way around. The man has two passions in life: wearing khakis and crunching numbers like the Moneyball-era Oakland Athletics.
He was once again on top of his game last night as results poured in and provided this tremendous moment where he searched through a tremendous amount of papers to find a hand-written note. Imagine the amount of shuffling you'd think is too much for live television and then multiply it by three and you have what actually happened.
How did he find what he was looking for? Because he's a pro's pro. And knew he could have taken two or three full minutes if he wanted to because watching him work is America's weird new kink. Weird times to be alive.
Now we patiently wait for NBC to wake him to explain a sporting event.