Stephen A. Smith's Reaction to the Latest JJ Redick, Mad Dog Russo Debate Was Priceless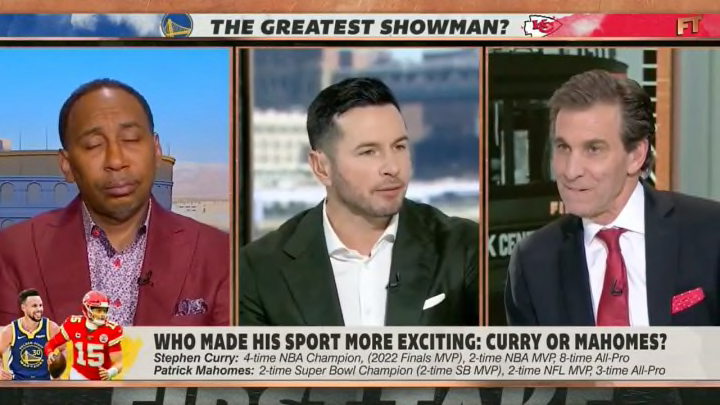 JJ Redick has done phenomenal work since becoming a contributor to ESPN's First Take. In fact, we named him sports media's Newcomer of the Year in 2022 as a result. And nothing has been better than watching Redick go off over Chris "Mad Dog" Russo's NBA takes. That happened again on Wednesday and it was fantastic television. But the best part was watching Stephen A. Smith's face as the debate wore on.
Redick and Mad Dog got into it on Wednesday about the all-time great shooters in the NBA. During a segment asking whether Patrick Mahomes or Stephen Curry made their sport more exciting, things devolved quickly. Redick attempted to explain Curry's greatness to Russo who kept harping on Larry Bird being a top three 3-point shooter of all-time. Redick was exasperated and tried to argue that clearly wasn't the case, but it was like talking to a brick wall. You have to see it to truly appreciate it.
Here's the segment:
Smith's performance throughout this clip is perfect. It's absolutely brilliant. Without saying a word he conveys exactly what we're all thinking.
Side note: when Mad Dog claims Curry lives at the free throw line it's clear he hasn't watch him play much. He ranks 28th in free throw attempts per game this season, just below Bam Adebayo.