Stephen A. Smith Calls Nikola Jokic A 'Big Tub of Lard Who Can't Jump Over the Curb'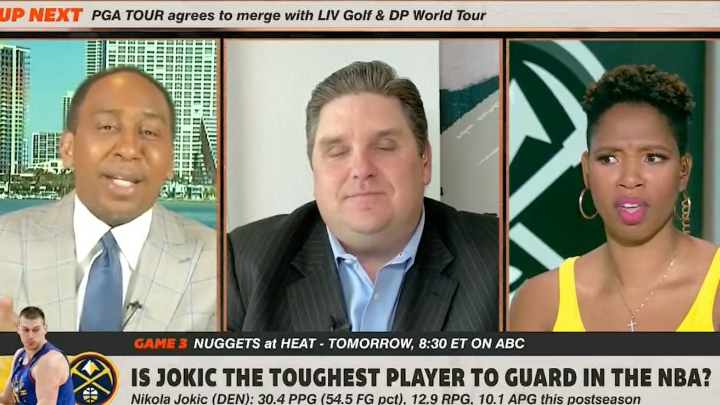 'First Take' /
The sports world fell over itself to cover the shocking PGA Tour-LIV Golf merger on Tuesday but there is still basketball to be played and a champion to be crowned. With an extra day off between games First Take was relegated to a vague discussion that has no true answer- who is the toughest player to guard in the NBA?
Brian Windhorst theorized that Nikola Jokic is currently the hardest player to guard, a theory that does not need much explanation as we've all witnessed his nuclear destruction of every playoff defense he's faced for nearly two months now. Stephen A. Smith (naturally) disagreed and launched into his argument that Stephen Curry is still the hardest player to guard in the NBA.
In the wind-up to the launch of his monologue Smith called Jokic, in what I guess I would describe as an affectionate tone of voice) a "big tub of lard who can't jump over the curb."
Once again, Monica McNutt speaks for the people with her facial reactions.
Seems a bit unnecessary to describe Jokic as such! Even if it was not mean-spirited. The curb thing is pretty accurate but we can leave the tub of lard comparisons on the drawing board next time.