Stephen A. Smith and Mad Dog Yell at Each Other About Dak Prescott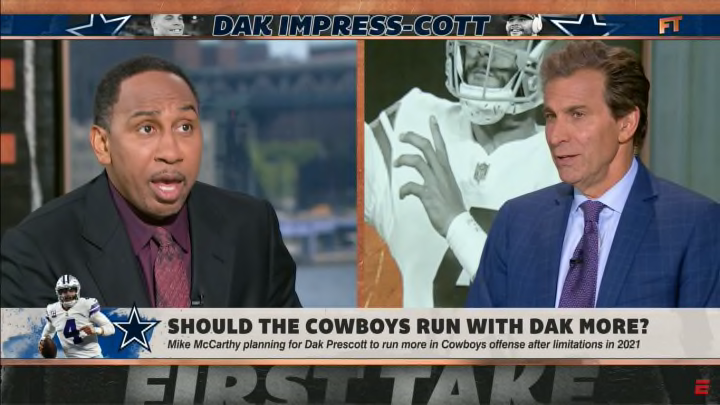 First Take has taken its game up a notch this year by pitting Stephen A. Smith and his takes against a rotating cast of panelists. While Smith has faced off against a conga line of former professional athletes, he has also been having weekly bouts with Chris "Mad Dog" Russo with absolutely stellar results. On Wednesday the two men entered the arena and had a knockdown, drag-out over Dak Prescott and the Dallas Cowboys. It was spectacular television.
Smith argued that Prescott needed to throw the ball more in 2022 and that that Cowboys needed to trust him to win games with his perimeter weapons, not his legs. Mad Dog disagrees because he doesn't think Prescott is good enough to win games with his arm and should become more of a dual-threat with designed running plays. Stephen A. was not having it and the two went off on each other.
Smith thinks Prescott should only run on scrambles and that he's paid to throw the football. He has CeeDee Lamb, Michael Gallup, James Washington and Dalton Schultz to distribute the ball to and the four-year, $160 million contract he signed last season wasn't for his legs.
In classic Mad Dog fashion, he claimed Prescott wasn't "Dan Marino" or "Roger Staubach" when Aaron Rodgers and other current quarterbacks were right there as contemporary comparisons. That's what makes these showdowns great, they're just completely bonkers.