Stephen A. Smith Goes on Knicks Rant in Front of Laughing Cheerleaders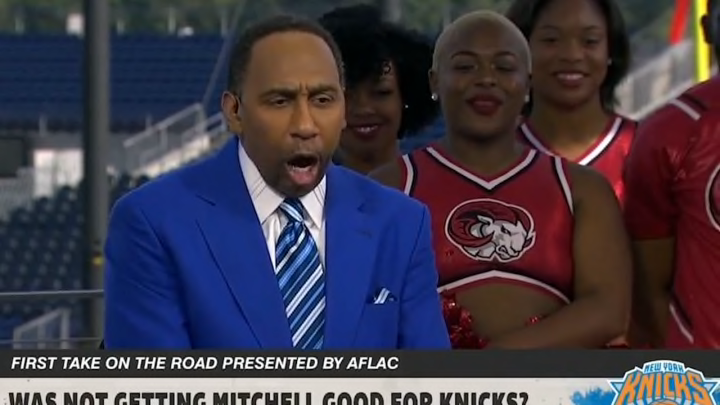 Donovan Mitchell was traded to the Cleveland Cavaliers on Thursday. The trade took place after talks fell apart between the Jazz and the New York Knicks. So while the Knicks were announcing R.J. Barrett's new extension, Mitchell, was traded to another Eastern Conference team. Knicks fans were beside themselves as they realized they had missed out on yet another star. Today on First Take, Stephen A. Smith gave voice to those Knicks fans with a fresh rant about how much the organization stinks.
It's your standard stuff about the Knicks lacking a superstar, but when Stephen A. Smith is super angry about it, well, it must be a day that ends in Y. Luckily, the Winston-Salem State University cheerleaders were right there to laugh at his anguish since First Take is in Ohio for the 2022 Black College Football Hall of Fame Classic between the Rams and Central State Marauders.
As for Knicks fans, this is just a perpetual cycle of "we're in a great position to get the next guy." Already today Marc Berman of The New York Post has suggested the Knicks are already monitoring the Shae-Gilgeous Alexander situation in Oklahoma City.
It's perfect. Unless you're a Knicks fan.