Stephen A. Smith Gives Best Jerry Jones Impression on 'First Take'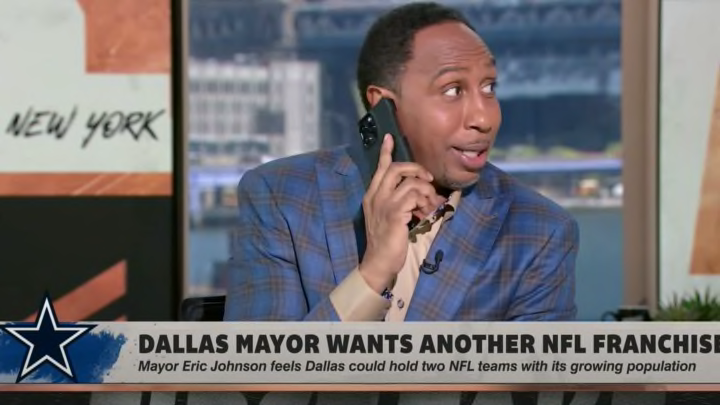 Stephen A. "Jerry Jones" Smith /
On Monday, Dallas mayor Eric Johnson earned some publicity when he expressed his belief that the city could support another NFL team. As with most things in politics, it was meant to generate a discussion rather than any movement towards change. While Dallas probably could technically support an additional football team because there is arguably no area in the country as crazy about football as Texas, the Dallas Cowboys are a national brand that does not want to share territory.
Specifically, there's no chance Jerry Jones wants to share territory with another team. This is obvious to everybody. Jones has enough money and sway in the region to kill a new team before the seeds are even planted. Hence why this is all being taken as a bunch of noise rather than an omen for things to come. It still got a spot during First Take today, where noted Cowboys antagonizer Stephen A. Smith broke out his best Jerry Jones impression for former Dallas lineman Marcus Spears.
Honestly? There's some room for improvement. The accent is alright but Smith didn't change up his vernacular. It was Stephen A. Smith with a Southern accent. But even ESPN's star personality isn't perfect.