Stephen A. Smith: Dak Prescott is the Problem With the Dallas Cowboys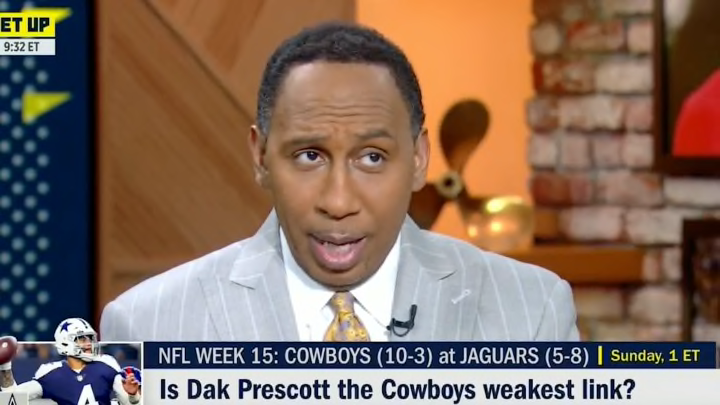 Stephen A. Smith /
The Dallas Cowboys were at the top of the discussion list for this morning's episode of Get Up and no ESPN property can ever really have a good Cowboys chat without Stephen A. Smith around. So Smith sauntered onto the set alongside Mike Greenberg and Co. and immediately dropped an assured take-- Dak Prescott is the problem with the Cowboys right now.
This is a talking point today because Jerry Jones said on radio earlier in the week that he doesn't mind Prescott's aggressiveness as long as it doesn't lead to interceptions. Prescott has had a bit of an interception problem since he got hurt and came back. Most games it's nothing crazy but the Cowboys nearly dropped last week's game against the one-win Houston Texans in part because Prescott had two picks.
That brief dalliance with Cooper Rush ruined everybody's brains for the rest of the season, apparently. The weak link of this Cowboys team is almost anything but Prescott. The run defense, as Smith noted, is bad. The secondary is extremely inconsistent. The offensive line is in shambles after getting hit with injury after injury. Prescott can throw interceptions but he can also throw his team right back into the game and Sunday was a prime example.
Things would be a lot different if Prescott wasn't around. Whether that means things would be better or worse depends on whether you agree with Stephen A., I suppose.