Stephen A. Smith Delighted Because Cowboys Season Over After One Game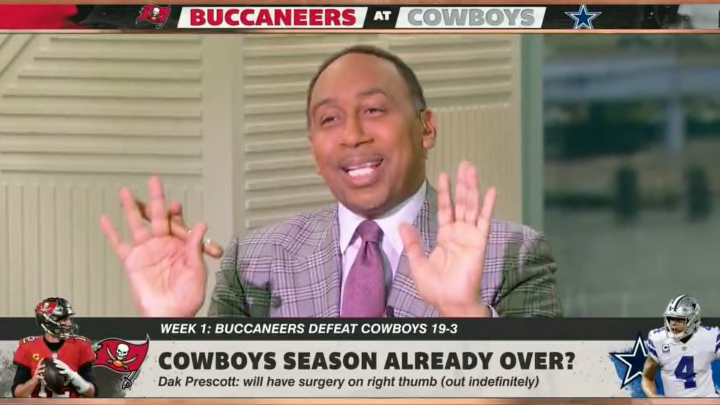 Stephen A. Smith was in a very good mood on today's First Take following the Dallas Cowboys season-opening loss to the Tampa Bay Buccaneers on Sunday Night Football. Dallas managed just three points and lost star quarterback Dak Prescott for six-to-eight weeks with a hand injury that will require surgery. Smith, a noted Cowboys hater, was absolutely delighted to gloat about Dallas' season basically being over after just one game. If the laughter didn't give it away, the Monday morning cigar certainly sent the message.
Poor Michael Irvin, a Cowboys Hall of Famer, just had to sit there and watch while Smith laughed at his team's misfortune. Surely this is not what he signed up for when he agreed to be a regular foil for SAS. There's really nothing that can be said after your team gets thumped on national television and your immediate future features heavy doses of Cooper Rush.
As Smith pointed out, this just takes the suspense out of the Dallas season. However, with Dallas playing two primetime games over the next five weeks this will not be the last we hear about their struggles. Or watch Stephen A. celebrate them.