Latest NFL Leads
Stefon Diggs Scores Touchdown, Tells Patriots Fans to Shut the F Up (Or Something Even More Crude]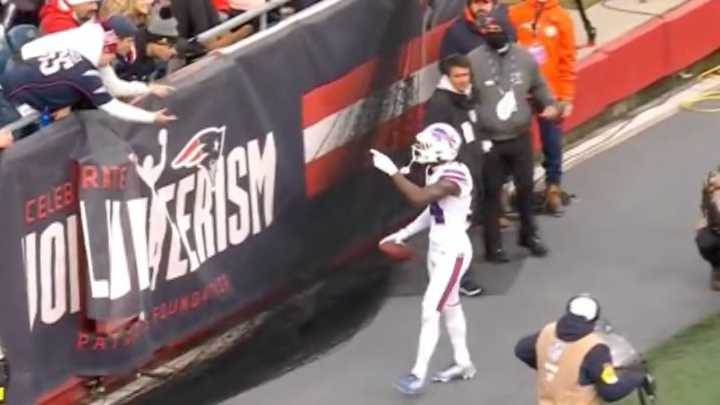 The Buffalo Bills were in Foxboro to take on the New England Patriots in Week 16. The Bills took a 17-7 lead in the second qaurter as Stefon Diggs scored on a touchdown pass from Josh Allen. To celebrate Diggs ran over to the crowd, singled out a few Patriots fans by pointing and saying, "you, you, you, you," and then yelled "shut the f--k up!" (Or see update below.)
This could be an enduring image of the Patriots - Bills rivalry, which was extremely lopsided until the Bills got good last year when Diggs showed up and the Bills beat the Patriots twice in one season for the first time since 1999.
New England fans obviously made quite an impression on Diggs in a very short time.
UPDATE: There is debate on Twitter whether Diggs said "shut the f up" or, well, S my F'n D. Sorry folks, we're trying to keep things as family friendly as possible. This is what happens when you find a stranger in the Alps.
The original title of this article said Diggs was directing the profanity at Bills fans when it was obviously Patriots fans.