Refs Robbed Myles Garrett of Obvious Safety on Kenny Pickett Sack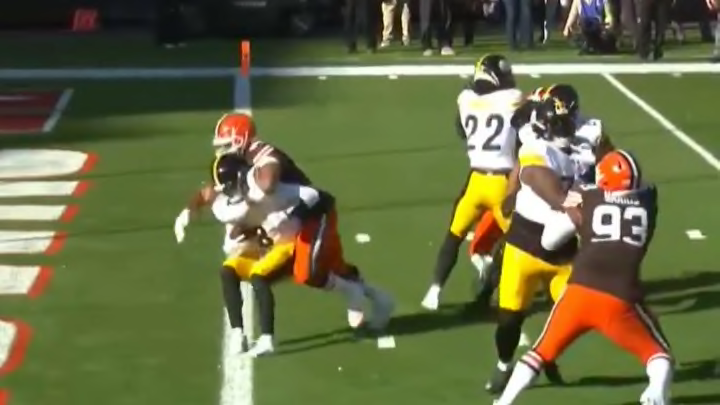 Myles Garrett and Kenny Pickett /
The Cleveland Browns hosted the Pittsburgh Steelers on Sunday as the home side attempts to salvage their season after losing Deshaun Watson for the remainder of the year. The Browns got off to a rather slow start, gaining only 30 yards on their first drive before deciding to punt from the Steelers' 44 yard-line. While that decision can and should be decried as cowardly, it at least served a purpose as Pittsburgh got pinned within their own 10-yard line for their first drive.
Then it was time for Myles Garrett to inject some energy into the affair. On Kenny Pickett's first drop-back, Garrett came screaming through the line and absolutely nailed the Steelers QB. In real time, it sure looked like it was a safety to boot. However, the referees somehow ruled that Pickett was actually down at the one-yard line.
There is no angle to justify that decision.
Just ridiculous. There's just no reason to overthink these safety calls. The ball was clearly either on the line or in the end zone when Pickett got hit. This play qualifies as cool enough that the perpetrator should receive all accolades possible, but it's also clearly a safety! A guy shouldn't have to be eight yards deep for the officials to get this call right.
Garrett should've gotten the safety and the Browns deserved those two points. In these AFC North contests, the margin is often that slim. It may end up being the difference.