Socially Distanced Baseball Ejections Are Weird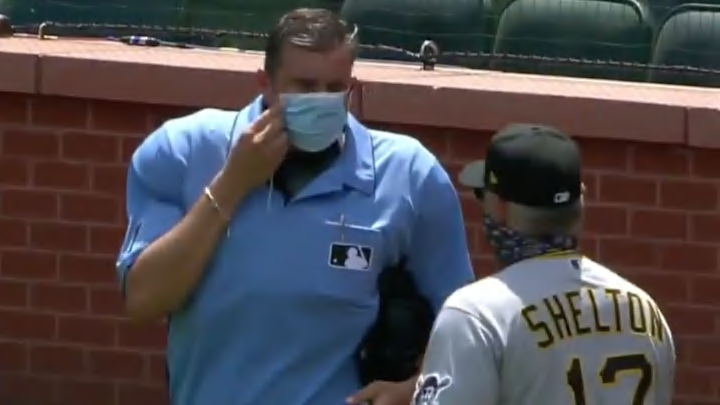 Umpires could once only dream of ejecting loudmouths seated in the stands around home plate for questioning their strike zones but now the new COVID world has made it a possibility. Yay?
Jordan Baker got the opportunity to toss Pittsburgh Pirates pitcher Derek Holland from some box seats during yesterday's game in St. Louis for too much peanut-gallery input. Buccos manager Derek Shelton, initially believing it was he who had received the game misconduct penalty, employed the natural response of rushing out of the dugout to give Baker a piece of his mind.
But, obviously, there are some new steps involved in 2020. Shelton had to put up on his face covering, which is extremely on-brand for the leader of a pirate ship. Baker also had to grab his and hold it over his mouth. The resulting video will go down as yet another reminder of these insane times where everything looks new and different.
And get used to it. Because players or managers who break protocol will be subject to stern discipline. Major League Baseball is already having a tough enough time keeping everyone healthy without people getting up in each other's grills and shouting spittle Jon Taffer-style. And unlike him, they'll take no joy in shutting it down.
If anything, this could lead to the aggrieved becoming even more demonstrative so everyone can see just how upset they are without lip-reading. Perhaps a team should get this guy on staff, who has perfected the art of the performative argument.