Skip Bayless Claims Kevin Durant Saved Stephen Curry By Joining Warriors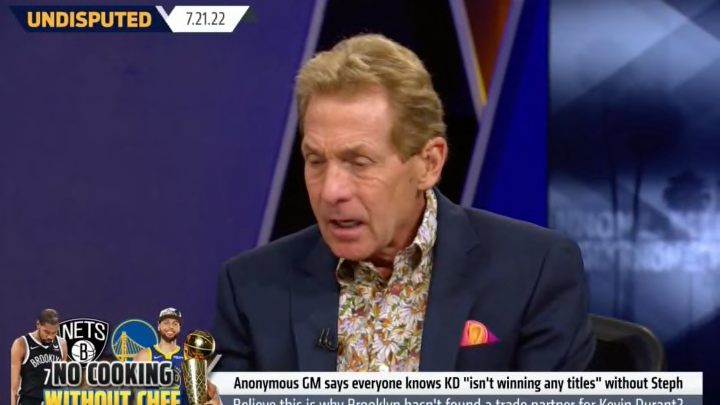 Skip Bayless /
After Stephen Curry won yet another championship with the Golden State Warriors and secured Finals MVP averaging 31 points per game, you'd think any questions about his "legacy" and postseason performances would be put to rest. Wrong! It turns out there's always room for that kind of discussion, as exhibited by today's episode of Undisputed.
Skip Bayless and Shannon Sharpe discussed a recent statement by an anonymous GM that Kevin Durant will not win another title unless he teams up with Curry again. Bayless took great issue with this sentiment because he believes Durant "saved" Curry by joining Golden State back in 2016. His reasoning is that Curry didn't play well in the 2014-15 Finals against a shorthanded Cleveland Cavaliers team and then blew a 3-1 lead the year after. Enter Durant, a savior. Apparently.
Now that Curry can't be criticized for failing to win the big one without Durant, we must apparently turn back to what might've happened if he didn't have Durant in the first place. The content cycle goes 'round.