Skip Bayless Just Sat There and Took It While Shannon Sharpe Screamed About How Bad Tom Brady Is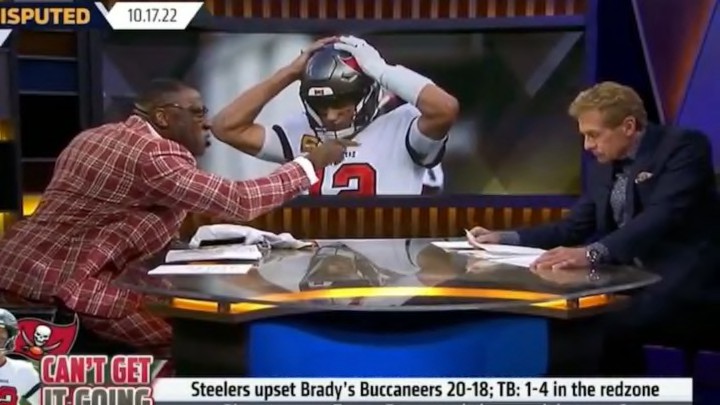 The Pittsburgh Steelers beat the Tampa Bay Buccaneers on Sunday, 20-18. Tom Brady got outplayed by a combination of embattled Mitch Trubisky and rookie Kenny Pickett as the Bucs dropped their third game in four weeks. On Undisputed on Monday morning Shannon Sharpe went off on Brady while directing it at Skip Bayless.
Sharpe certainly came to work with a solid rant ready to go and Bayless couldn't do anything but sit there and take it. He noted how little Brady has practiced, how poorly he has played at 45 years-old and suggested that the media is afraid to say anything because they don't want to upset Tom Brady.
The last one is a bit much as the media is notorious for counting out Touchdown Tom, but still, this was great theater. Sharpe seriously looked like he was blaming Bayless for Brady only throwing two touchdowns in the last two weeks or flying private to Pittsburgh. And really, who better to get yelled at for Brady's performance than the guy begging people to help Brady on Twitter?
Considering they do this every day and its only the middle of October, this will probably be forgotten by the time Brady and the Bucs turn things around. Besides, they're still tied for first in their division at 3-3 so it's not like anything is slipping away. For now though, it's nice to watch Skip Bayless sit quietly for once.