Skip Bayless Nuzzles New Micah Parsons Jersey Before Arguing About Madden Simulation of Cowboys' Season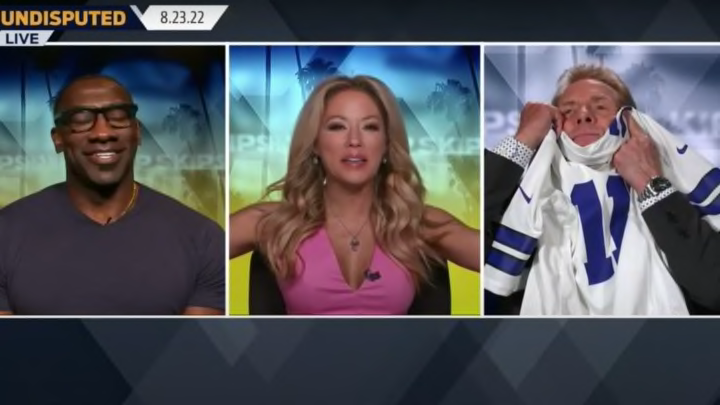 'Undisputed' /
You all know it's a content desert out there. Those responsible for discussing sporting news must pursue unusual avenues in order to keep the conversation going until the NFL season begins in earnest and provides digestible storylines en masse. So it isn't a surprise, per se, that the Undisputed crew turned to a video game simulation to help fill up their three-hour block on FS1 this Tuesday.
Skip Bayless opened the show by showing off his new Micah Parsons jersey and shoving his face in it. Then he and Shannon Sharpe got into the nitty-gritty. A full season simulation from Madden suggested the Cowboys would reach the NFC Championship Game for the first time in over 20 years and Dak Prescott would win MVP. It was a 10-minute segment.
I imagine Cowboys fans would be ecstatic if Madden was accurate in any way, shape, or form. Bayless obviously thinks it'll happen. MVP is a tall ask for Prescott but getting to the NFCCG is much more in reach depending on how things break for Dallas.
Gotta do what you gotta do. The hours must be filled one way or another. Was this whole post an excuse to use the above screengrab of Bayless shoving his face into a Parsons jersey? Maybe.