Shirtless Nuggets Fan Gives Incredible Interview Recounting How He Caught And Chugged a Beer From Christian Braun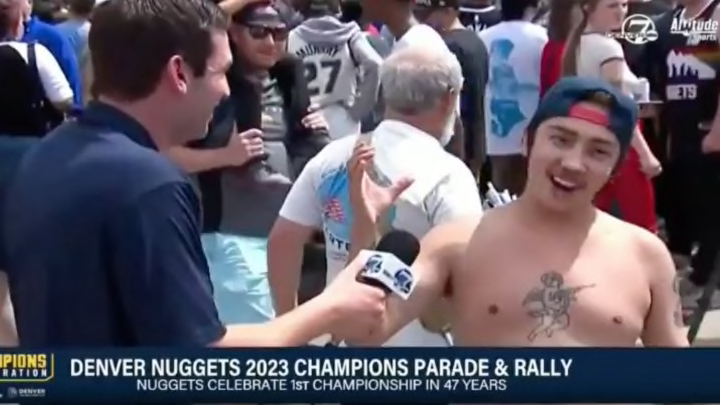 Nuggets fan /
The city of Denver is riding even higher than normal today with the Nuggets holding their first-ever championship parade. The vibes are extremely good as the players bask in their triumph and thousands of fans congregate to do the same. Media members are unloading the final pieces of baggage they've carried throughout the playoff run. It's all fun and games.
But the highlight of the day happened pretty early and didn't really involve the Nuggets at all. Behold the best local interview you've seen in ages as this Nuggets fan, happily channeling the spirit of JR Smith in his clothing choices, gleefully recount how he caught a beer thrown by Christian Braun and chugged it.
Yes, he got to drop some swear words on the local ABC affiliate.
So many good lines here. This is the only content I ever want to consume. I only hope to reach this level of nirvana at any point in my life. And it was nice of the reporter to not end the interview immediately after an f-bomb got dropped on live television.
Cha, baby.