Shaq Appears to Make FTX Joke During Stephen Curry Interview on 'Inside The NBA'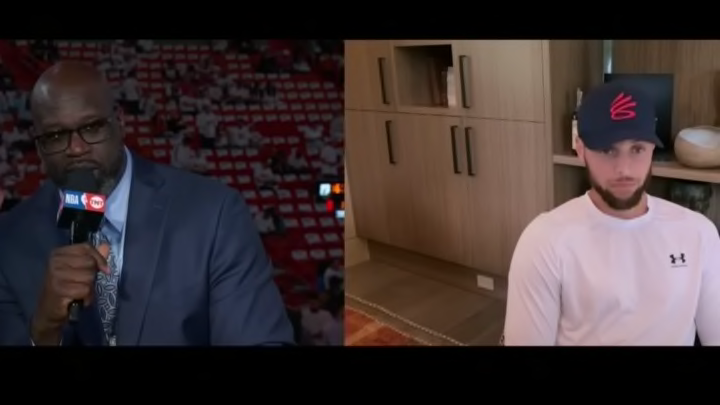 Shaq and Steph /
Stephen Curry was officially announced as the NBA's 2023 Kareem Abdul-Jabbar Social Justice Champion last night ahead of Game 4 between the Boston Celtics and Miami Heat. Inside The NBA held a virtual ceremony of sorts for Curry and even got Kareem himself to appear with a prerecorded message congratulating Curry on all his hard work. It also led to an amusing exchange between Shaq and his fellow former MVP.
Shaq ended a sincere congratulations speech to Curry by saying, "I just wanted to say congratulations, my brother, and thanks for getting me in trouble. Don't say nothin'." At the 4:23 mark of the below video:
Everybody watching immediately interpreted this as an FTX joke; Shaq has been in news headlines over the last few weeks because he is apparently doing an impressive job of avoiding getting served for a lawsuit filed by FTX investors. He presumably made this crack to Curry because he and Tom Brady were the two most famous faces at the forefront of the cryptocurrency movement with FTX before... well, you know.
Here's Shaq narrating an FTX ad with Curry.
The lawyers probably don't find it very funny but we sure do!