Sean Clifford's NFL Draft Setup Looks Like It Got Thrown Together at the Last Minute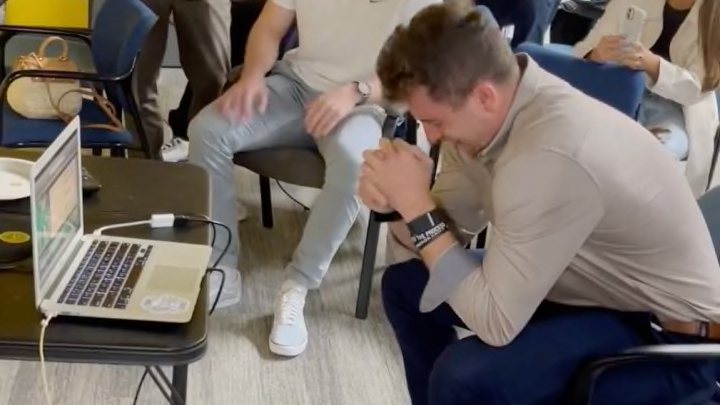 Sean Clifford /
Sean Clifford's name has been thrown around a lot leading up to the NFL Draft, but not because he is considered a top prospect. Rather, Clifford just kept getting mentioned because he beat out Will Levis at Penn State. Levis would transfer to Kentucky and got stuck in the Green Room on Thursday as he fell out of the first round. Clifford himself, however, was widely assumed to be an undrafted free agent at best and outside of the Levis connection was not discussed at all as the draft approached.
Now you are caught up and understand why it was a massive surprise that Clifford not only got drafted but went in the fifth round to the Green Bay Packers. You'd be hard-pressed to find anybody on the planet who thought Clifford would go that high. In fact, upon seeing Clifford's draft room setup, I'd argue the man himself didn't even expect to get picked because all this looks like it got thrown together in quite a hurry.
A projector. The HDMI adaptor for the Mac. A yellow wall, the absolute worst color of wall for visibility purposes, to project the screen upon. It feels like Clifford was out and about somewhere when he got the call from the Packers and sprinted into a nearby elementary school with his family to watch the pick.
A good moment for Clifford, even if anybody watching the wall couldn't see a damn thing.