Peyton Manning Experiences Every Emotion in the World As Denver Broncos Murder Late-Game Situation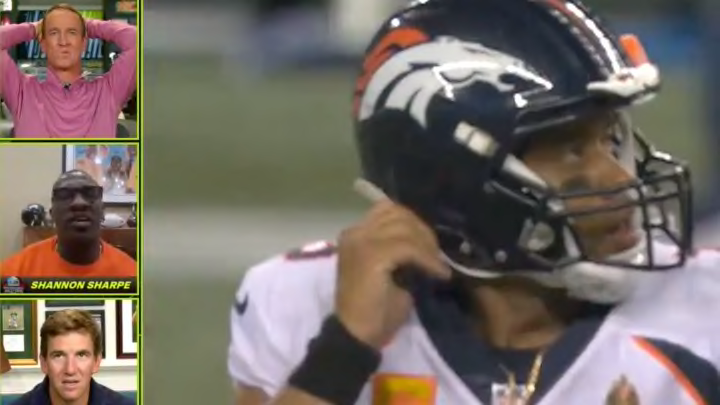 About 11 hours and change after the world was informed that first-year Denver Broncos coach Nathaniel Hackett is completely fearless, he wilted spectacularly under the first bright spotlight of the season. His clock management and misuse of Russell Wilson was stupefying in the moment and even more brain-melting after a night of fitful sleep. How someone could take the ball out of a future Hall of Famers hands in favor of trying a 64-yard field goal after allowing the game clock to evaporate is a real stumper. And a coaching lowlight to remember. If there's a bright side to seeing someone light their chances to win on fire, it's that it came on national television with two concurrent broadcast.
One of them was the ManningCast, where Peyton Manning was forced to watch the horror unfold knowing that no matter how hard he screamed for any of the three remaining Denver timeouts, they could never be granted. That didn't stop him from signaling over and over and over while making the same face Michael Scott did while informing the Scranton branch they would be absorbed by Josh Porter over in Stamford.
Solid reaction. The exact type of thing such an alternate feed was created to showcase. Seeing one of the game's greats channeling the same disbelief and frustration someone at home on their 8th beer is channeling is added value. One way to improve it may to allow the Manning brothers to get looser and conversational. I'd really enjoy hearing the unfiltered takes on the trainwreck here while they let the expletives fly like Kramer at the dentist.