Sauce Gardner Wearing Massive Diamond Necklace to NFL Draft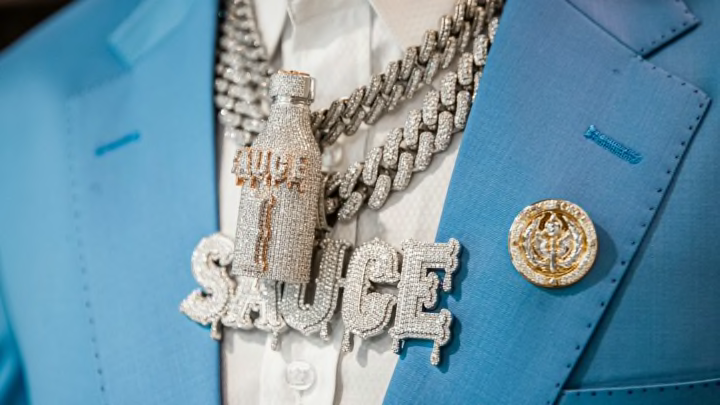 Sauce Gardner /
Ahmad Gardner spent three years at Cincinnati as one of the very best cornerbacks in all of college football, and strolls into the draft tonight as an expected Top-10 pick. Gardner also has the privilege of owning easily the coolest nickname in recent draft memory: "Sauce." Sauce Gardner. The man was made for the spotlight, as evidenced by both his name and the fact that he allowed exactly zero receiving touchdowns throughout his college career.
As we all know, one of the best parts of the NFL Draft is the outfits everybody rocks to the first round. It's a great moment for all involved as they accomplish their lifelong dreams and everybody dresses the part. Gardner will be boasting a blue suit with a white shirt, but most importantly, is adorned with a massive diamond necklace with his nickname, as well as what is probably the most expensive bottle of hot sauce in the world. Also made of diamonds. Tremendous.
Various mock drafts have Gardner going as high as No. 2 to the Detroit Lions, and none have him falling very far past the No. 10 pick. The most popular landing spot for the corner appears to be the New York Jets, owner of the No. 4 overall pick, or the Houston Texans at No. 3.
In short, Gardner will not have to wait long to show off the bling to the world.