Saints Gifted Free First Down After Questionable Unnecessary Roughness Call vs. Buccaneers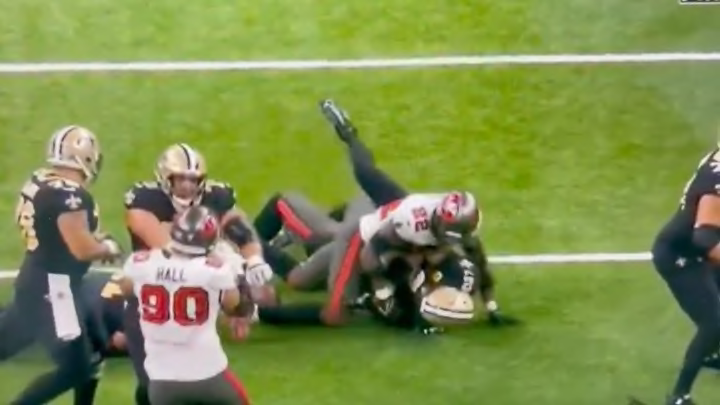 Jameis Winston /
The Tampa Bay Buccaneers traveled to New Orleans on Sunday afternoon to face the Saints. As has been the case ever since Tom Brady joined the Bucs, a lot of weird stuff happened in the early goings and the underdog Saints yet again made the lives of their divisional rivals very difficult.
The referees even chipped in this time around. The Saints were up by three and facing a third-and-five on their own half of the field when Jameis Winston dropped back to pass. Winston got hit and started to go down before taking another hit, which prompted a flag from the officials for unnecessary roughness that came with a free first down.
It was... a questionable call, we'll say.
That just doesn't warrant a flag. It wasn't a hard hit, it wasn't to his head, and Winston wasn't down. Was it a bit later than the rule book would prefer? Yes. But all this is happening in real time. A pretty weak penalty.
All that said, Winston is playing with a broken back, so maybe the refs got the word from up high that they need to do whatever is necessary to prevent Winston from leaving in an ambulance.