Ryan Ruocco Nailed His Call of the Final Out of Domingo German's Perfect Game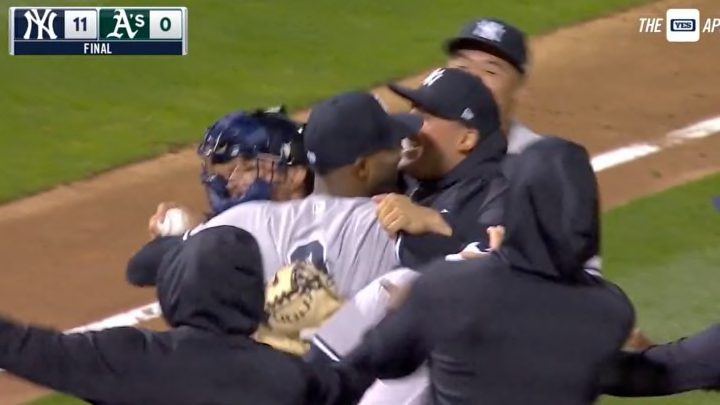 Yankees /
On Wednesday night, New York Yankees pitcher Domingo German, who was suspended 81 games in 2020 for violating MLB's domestic violence policy, threw a perfect game against the Oakland Athletics. It was only the 24th perfect game in Major League Baseball history and the first since 2012. Ryan Ruocco was filling in for Michael Kay as the play-by-play announce for the YES Network and absolutely killed it on the final out.
It must be impossibly hard to keep one's composure when announcing history as it unfolds before your very eyes. But Ruocco kept it steady, took it slow, and hit peak excitement at just the right time. Just as importantly, he let the viewers bask in the moment by falling silent for nearly 30 seconds while the camera zoomed in on the Yankees going nuts and the away crowd cheering for the feat they witnessed. Then, when the time was right, he painted a picture of the historical significance of the moment.
Announcing is, for the most part, one of those jobs where most people only remember if you're bad at an inopportune time. Ruocco should be remembered for killing it here. He really could not have done a better job.
No notes. Tremendous work.