Royce Lewis Flips Over First Baseman, Lands on Head in Scary Scene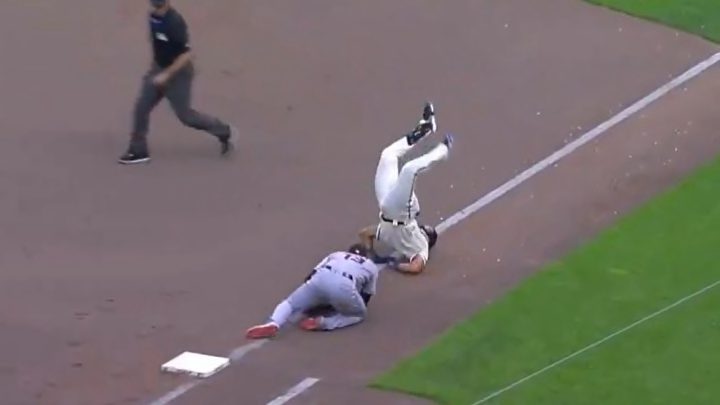 Minnesota Twins third baseman Royce Lewis suffered what appeared to be an ugly neck injury on Sunday after he flipped over Cleveland Guardians first baseman Gabriel Arias and landed on his head. Lewis looked to be badly hurt, but luckily it appears he escaped major injury..
The play unfolded in the bottom of the eighth inning with two outs and the Guardians leading 2-1. Lewis hit a grounder to third that Cleveland third baseman Jose Ramirez fielded it cleanly and threw across the diamond to first. Arias adjusted to the bounced throw awkwardly and wound up on the back of the base. Lewis was hustling down the line and they collided as he ran through the bag. Lewis flipped over Arias and landed directly on his head.
Here's the play:
Man that's ugly.
After the game, Twins manager Rocco Baldelli said Lewis was fine, he was just shaken up and had a few abrasions. The No. 1 overall pick from the 2017 MLB Draft did not have a concussion and his neck appeared to be OK.
Everyone involved in this is incredibly lucky the outcome wasn't much worse.
This also begs the question, why doesn't first base extend into foul territory to minimize collisions? It's such a simple solution that rec softball leagues have figured out, how has MLB not done it? that change needs to happen to prevent stuff like this in the future.