Roundup: Officer in Daunte Wright Shooting Resigns; Kenosha Officer in Jacob Blake Shooting Faces No Discipline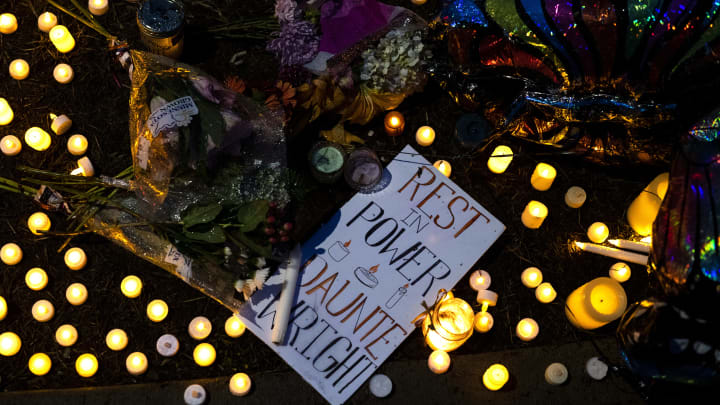 Daunte Wright Memorial / Stephen Maturen/Getty Images
Kim Potter, the senior officer who shot Daunte Wright, has resigned... Kenosha police officer Rusten Sheskey, who shot Jacob Blake in August, has returned to active duty and will face no discipline... Joe West wins defamation lawsuit against Paul Lo Duca... Netflix orders two more seasons of 'Bridgerton'... Longtime suspect Paul Flores arrested in 25-year-old Kristin Smart case... Jaleel White, most famous for playing Steve Urkel in 'Family Matters', has launched his own cannabis strain... Dogecoin is nearly worth ten cents a coin now... White House attempting to reassure public after Johnson & Johnson vaccine pause... Biden will withdraw US troops from Afghanistan by September 11... How Amazon crushed the union in Alabama... Denver Nuggets star Jamal Murray tears ACL... Egypt seizes boat that blocked Suez Canal, claims owners owe nearly $1 billion for stoppage...
The Trade That Might Have Saved Caris LeVert [Sports Illustrated]
The Redemption of Justin Bieber [GQ]
Andrew Cuomo's White-Knuckle Ride [New York Times Magazine]
How Scientists Discovered a Massive Toxic Dump Site Off the LA Coast [VICE]
Leave Jerry Seinfeld's Apartment Alone, You Nerds [The Big Lead]
How a West African Lake Killed 1800 People—And How It Could Happen Again [Mental Floss]
Absolutely loved the first one. Super pumped.
Give me more Godzilla content!
This whole album was sick but this song especially. How does JPEG always hit it?