Roundup: Andrew Cuomo Sexual Harassment Investigation Findings; Shooting at the Pentagon; WWE Releases Ric Flair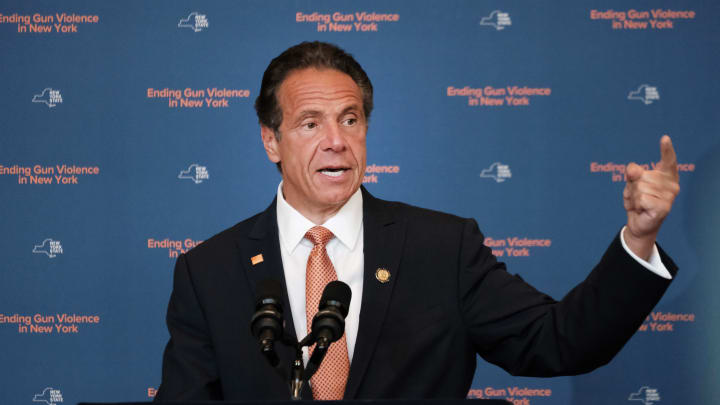 Andrew Cuomo / Spencer Platt/Getty Images
New York attorney general releases findings on Andrew Cuomo sexual harassment investigation... Joe Biden expresses belief Cuomo should resign... Ric Flair released by WWE... Daisy Veerasingham named president and CEO of Associated Press... Shooting outside Pentagon leaves police officer dead... New York City will require proof of vaccination for gyms, indoor dining... Khabib Nurmagomedov claims he's never fighting again... Pau and Marc Gasol announce retirement from international competition... Plague-infected chipmunks force closures around Lake Tahoe... Olympian Gwen Berry takes advantage of IOC's relaxed rules on free speech... Vikings 2020 first-round pick Jeff Gladney released after being indicted for assault... Brendan Fraser joins Martin Scorsese projects...
To Fight Vaccine Lies, Authorities Recruit an 'Influencer Army' [New York Times]
'Where am I going?': Evan Fournier, Nicolas Batum and the wild experience of being NBA free agents at Olympics [The Athletic]
Kevin Durant Is a New Type of American Hero [The Big Lead]
The Cold, Brutal Grandeur of 'The Green Knight' [The Ringer]
When All Else Fails, It's Time to See the Olympic Body Mechanic [New York Times]
Candace Parker on Shaq, NBA 2k, Her New Podcast, and the "Bullshit" Politics of Team USA [GQ]
Over $2 billion in guaranteed dollars was handed out in the first day of free agency, so... Hawkins is probably right.
Our first look.
This looks... interesting? I saw the first one over a year ago and am still very unsure how I feel about it.
Kali Uchis -- "After The Storm" ft. Tyler, The Creator & Bootsy Collins