Rookie Kicker Cade York Visibly Frustrated Browns Won't Let Him Kick a 67-Yard Field Goal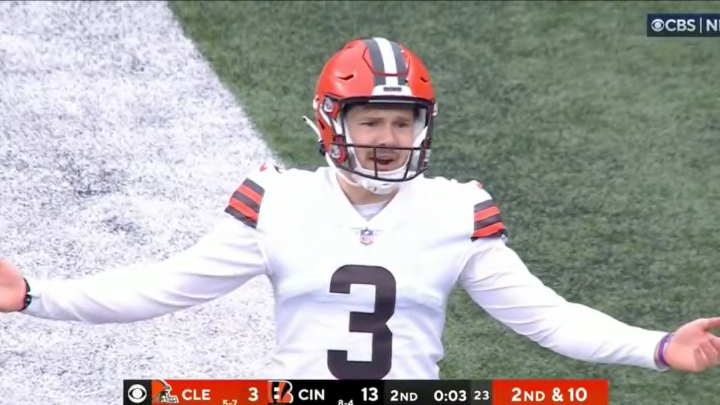 Points have been hard to come by for the Cleveland Browns offense since Deshaun Watson returned and took over under center last week. Trailing the Cincinnati Bengals by 10 near the end of the first half, Deshaun Watson spiked the ball to set up 2nd down from midfield with three-seconds left on the clock. What happened next was Watson threw a deep incomplete pass to end the half. What should have happened was coach Kevin Stefanski sending out the kicking unit to let rookie Cade York cook.
York was shown on the sidelines doing the old "what's got two thumbs and can definitely make a 67-yarder right now?" As it became apparent he would not be sent on he seemed shocked and disappointed. He seriously looks like he can't believe it, which is generally not the reaction you would expect from someone being told they can not attempt the longest field goal in NFL history.
York has connected on 17 of 25 field goal attempts this season, including four-of-seven from 50+ yards. He made his career-long, 58 yards, in his first game. Who knows how far back he can really go if the coach doesn't give him an opportunity. Come on coach. Let Cade cook!