Ron Powlus III Will Win Two National Championships and Two Heisman Trophies at Notre Dame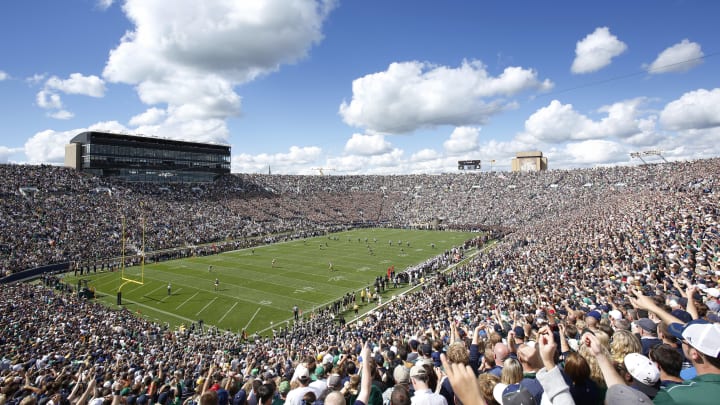 Joe Robbins/Getty Images
In news that cannot possibly be true because if it is The Big Lead's bones are becoming brittle and cleaving off into a fine mist, Ron Powlus III has decided to follow in his father's footsteps and play quarterback for Notre Dame. The 6-foot-3, 225-pound signal caller has signed his letter of intent and will make the short trek from Mishawaka, Ind. to South Bend. The way time is passing, we may have flying cars by next fall because it seems just yesterday that Beano Cook was making one of the more memorable freezing cold takes in modern sports history.
In November 1993, he sat next to Chris Fowler, who hasn't aged a bit, and claimed the highly touted Powlus II would capture two national championships and Heisman Trophy awards. Powlus II did not do that. Or even come close.
The Irish went 30-17-1 over the next four years and Powlus threw for 52 touchdowns and 27 interceptions, not good enough for college football's top individual prize even once. He went undrafted before catching on with the Houston Oilers. A nice run but nothing crazy.
But life is such a funny thing. Here we are 27 years later with the chance at a mulligan. A new Powlus emerges with new hope. Could he be the one to win it all and lift the hardware multiple times for the Irish? Could Cook ultimately have not been incorrect, just premature?
Since an opportunity like this comes along only so often, I'm going to take it. Ron Powlus III will win two Heismans en route to two national titles over the next four years.