Ron DeSantis Begins Q&A By Awkwardly Warning Crowd To Only Ask On-Topic Questions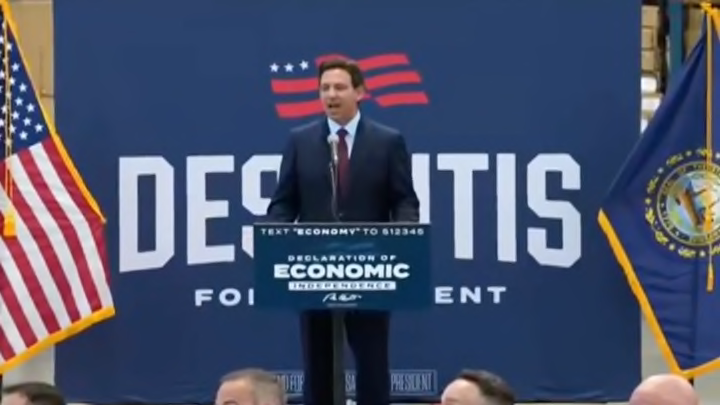 Ron DeSantis was in New Hampshire on Monday morning where he unveiled his economic agenda in a speech at a warehouse in front of what appeared to be dozens of supporters. Despite the presumably friendly crowd, there was an awkward moment as the Florida governor kicked off the Q&A portion of the event when he warned the first person to get the microphone that he wasn't answering any questions that weren't about the economy.
"People like my wife and I, and small business owners, saw a great transfer of wealth out of our pockets into the hands of billionaires like Bezos and Gates and also into the hands government officials like Whitmer and Newsom. Would you support a constitutional amendment to prevent anymore shutdowns from any other alleged Chinese viruses and also, in your plan are we gonna be abolishing the IRS?"
Technically, that was on-topic, which was a relief for everyone involved.
Still, DeSantis went through a number of emotions in this clip. He's happy he got applause, he's pre-emptively annoyed that someone might ask him something off-topic, and then he's on the edge of his seat as he tried to figure out where this guy was going with any of this, before breaking character to laugh out loud at "alleged Chinese virus."