Ron DeSantis and Jesse Watters Ate Pizza on FOX News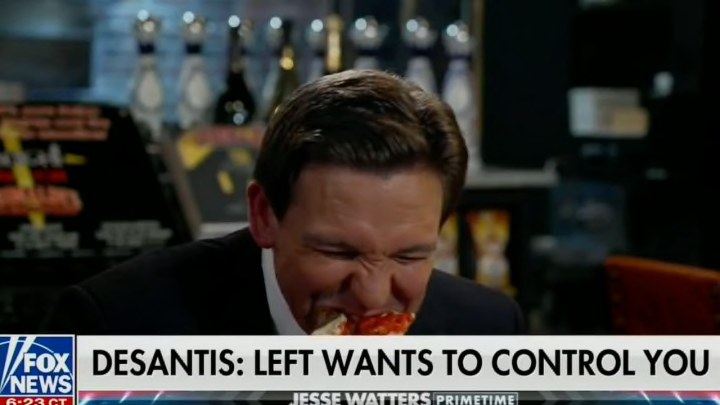 Jesse Watters is the new face of FOX News' evening lineup, taking Tucker Carlson's empty seat at 8pm. That means that he gets to do the highest-profile, most important interviews, like this one with Florida Governor Ron DeSantis. Watters and DeSantis discussed the woke threat to coal ovens in New York City while enjoying a classic piece of pie. Or, as FOX News put it, "Ron DeSantis slings pizza with Jesse Watters, torching the Left's latest green regulation plans."
"They just don't want people to be happy and to be able to make their own decisions. They were going after gas stoves in Florida, we made them tax free. We may have to do some incentives for coal fire pizza because you know what? We'll take it."
The truth is this rule would probably affect less than 100 restaurants in New York. Per CNN:
According to the city, the rule requires that relevant restaurants have to hire an engineer or architect "to assess the feasibility of installing emission controls on the cook stove to achieve a 75% reduction in particulate emissions." 

If that level of reduction is not possible, "the assessment must identify any emission controls that could provide a reduction of at least 25% or an explanation for why no emission controls can be installed." Basically, the restaurant just has to show the city that it has done its due diligence, and make a change if possible. The rule wouldn't go into effect until later in the summer.
So definitely keep an eye on this major developing story to find out when THEY will be coming for your pizza next.