Ron DeSantis - Kim Reynolds Interview Derailed by 'We Want Trump' Chants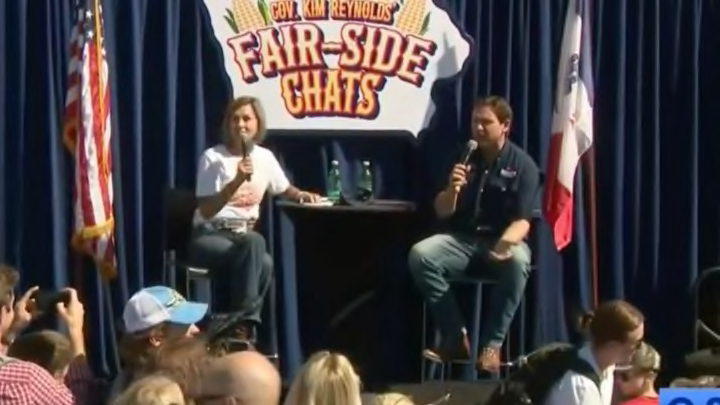 Ron DeSantis appears to live in Iowa now. He mostly be moving around the state, but this weekend he's set up shop in Des Moines at the state fair, as have most of the Republican politicians who think they can be president. That's where he sat down for a "FAIR-SIDE CHAT" with Iowa Governor Kim Reynolds. The only problem was that enough people in the crowd were focused on trolling the Florida Governor that they drowned him out with "We want Trump" chants as he started to talk about how people from Iowa move to Fort Meyers for the winter.
When DeSantis finished his opener, Reynolds got out of her seat and pleaded with the crowd to be quiet and be "Iowa nice." That didn't appear to wor at first, but the chat continued and the Trump supporters had either moved on or tired themselves out by the time DeSantis got around to telling his story about playing catch with his son.
By the time it was over, everyone was clapping on their own, which must have been a relief for everyone involved. There's another week remaining of the Iowa State Fair, so who knows how long the Republicans are going to stick around to eat fried dough and take pictures with farm animals, but hopefully it continues to produce excellent content for the rest of the country.