Robinson Cano's Padres Career Off to a Tough Start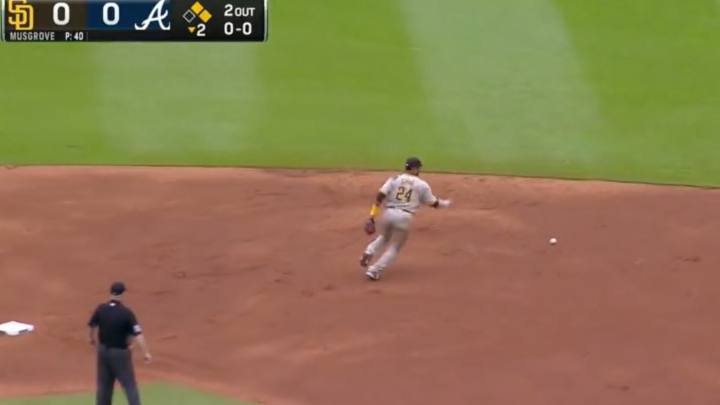 Robinson Cano with an oopsie /
The New York Mets released Robinson Cano earlier this month, a somewhat surprising move given how well-liked he was in the locker room but not that surprising when considering his salary-to-production ratio. Cano is 39-years-old and far past his heyday, but the San Diego Padres decided they wanted to see if Cano can't rediscover his former hitting prowess on the opposite coast and signed him last Sunday. Given how little production San Diego has received from the DH position this year, it's worth a try even if it's a longshot.
Today, Cano got his first start for the Padres with Manny Machado getting the day off. Cano was slotted in at second base and his Padres career did not get off to a hot start.
In the bottom of the second, the Atlanta Braves had some momentum with a man on first. Adam Duvall poked a ball into right field that checked up in front of Wil Myers. Myers struggled to field it cleanly, which allowed Dansby Swanson to easily reach third from first. Then Myers threw the ball in to Cano, who somehow lost it in the process and got completely turned around. Swanson took advantage and scored.
Yeesh. Cano has never been known for his fielding but it wasn't exactly a complicated play to execute and he failed.
There's still time for him to make up for it, given it's only the second inning and he could tie it up with one swing of the bat. But not really the start anybody was looking for.