RG3 Already Has New Girlfriend Grete Sadeiko's Name Tattooed on His Forearm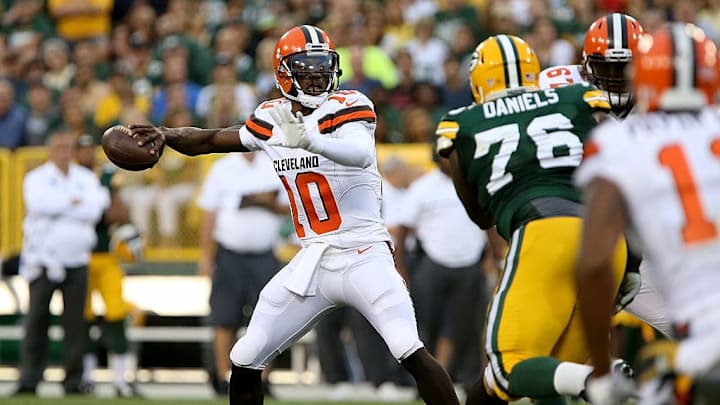 GREEN BAY, WI – AUGUST 12: Robert Griffin #10 of the Cleveland Browns throws an interception in the first quarter against the Green Bay Packers at Lambeau Field on August 12, 2016 in Green Bay, Wisconsin. (Photo by Dylan Buell/Getty Images)
Robert Griffin III, whose plans for divorce became public this week, appears to be dating Florida State heptathlete Grete Sadeiko. The two have had a not-cryptic-in-retrospect relationship on social media for about a month now, and were spotted holding hands. And now, the plot thickens! The sleuths at TMZ have noticed that RG3 has her name tattooed on his forearm, and maybe vice versa:
According to their sourcing, the apparent couple hit up a tattoo parlor on a jaunt to Los Angeles last month. This is quite the step early in a relationship!
We can confirm, using a photo from the Cleveland Browns preseason game last week, that Robert Griffin III does in fact have that tattoo now. Here's the photo from the game against Green Bay, from USA Today Sports Images.
Aug 12, 2016; Green Bay, WI, USA; Cleveland Browns quarterback Robert Griffin (10) during the game against the Green Bay Packers at Lambeau Field. Green Bay won 17-11. Mandatory Credit: Jeff Hanisch-USA TODAY Sports
And here's the blown-up version of his forearm from that photo.