Rex Ryan: Cowboys Defense is Soft, Can't Finish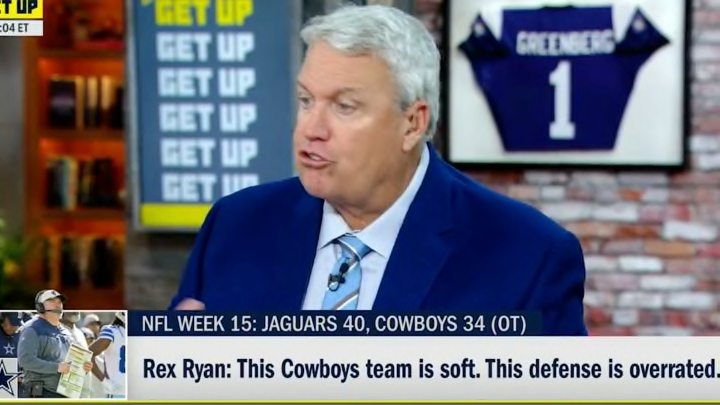 Rex Ryan /
The Dallas Cowboys blew a 14-point lead to the Jacksonville Jaguars on Sunday and lost in overtime off a tipped pick-six. It was a brutal loss in all regards. Losing to the Jaguars is not the mark of shame it might've been a few years ago; Trevor Lawrence has made the sophomore leap and played out of his freaking mind over the last month and a half. But Dallas is supposed to be the better team and let Jacksonville back into the game. The worst of it was giving up a game-tying field goal that came after the Jaguars marched down the field with one minute to go and one timeout to use in the fourth quarter.
There's lots of blame to go around in Dallas for the loss. Rex Ryan set his sights on the defense and laid into the unit on Get Up this morning.
It is pretty bad for a roster featuring Micah Parsons and Trevon Diggs to blow a lead like that. They are game-changers but the rest of the defense isn't good enough to hold up, apparently.
This is, however, perhaps not as big a problem as Ryan is making it out to be. The Cowboys' defense has holes but isn't horrible like, say, the Minnesota Vikings unit. It sure would be nice to have a shutdown defense but with a good offense like Dallas has it's manageable to cover for an unreliable defense.
Nevertheless, anybody who thought the defense the strength of this Cowboys team should accept they are wrong by now.