News
Reporter Hit By a Car Live On-Air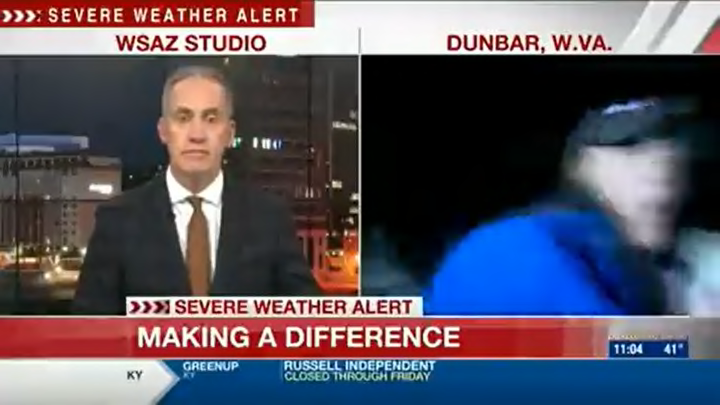 WSAZ News was having a typical local news broadcast Wednesday night when out of nowhere a reckless motorist ended it with a thump. The Huntington, West Virginia NBC affiliate had it's veneer of normalcy shattered when on-site reporter Tori Yorgey was hammered by an SUV.
Stalwart news anchor Tim Irr was attempted to toss to Yorgey, who was going to discuss water mains breaking due to winter temperature changes. As Yorgey got ready to deliver her report, an SUV entered the shot behind her and to the left and simply just kept coming. It drove right through her in a positively surreal scene.
Check it out:
We're certainly happy that Yorgey seems to be OK. The fact that she's not seriously injured makes it much easier to find her reaction to it funny. Her adrenaline was clearly pumping because she just wouldn't stop talking.
Her reaction is so great. Some choice quotes:
"We're all good."
"You know, that's live TV for ya. It's all good."
"I actually got hit by a car in college too just like that."
"We're good Tim."
"Do you know if I was bumped down low or up high sir?"
In case you're wondering why Irr seemed so confused about what was going on, he was likely looking into a teleprompter in front of him and didn't have a feed of Yorgey up. That's why it took him time to understand what happened and just how bad it actually could have been. He simply couldn't see it.
Again, we're thrilled Yorgey seems to be find and in good spirits. That could have been tragic. Instead it's a pretty funny news clip.