Refs Screw Bengals By Overturning Ja'Marr Chase Touchdown Catch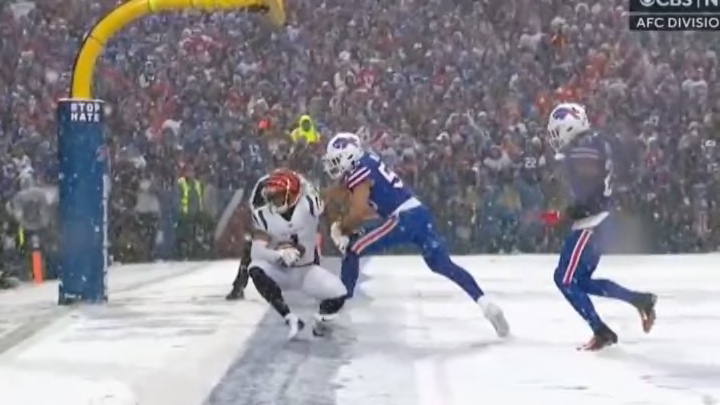 Ja'Marr Chase /
The Cincinnati Bengals were unfazed by the road environment they faced on Sunday and got off to a quick start against the Buffalo Bills. Up 14-7 with less than two minutes to go in the first half, Joe Burrow appeared to have his third touchdown pass of the day, hitting Ja'Marr Chase in the back of the end zone on third-and-goal. It was an awesome throw and an awesome catch.
Until it wasn't! Because upon review, the officials ruled Chase did not complete the catch. The ball was moving too much to call it a touchdown. It was a ridiculous call that should not have been made.
This is a touchdown.
The ball was bobbled, to be sure. But he secured possession with two feet down before falling out of bounds. The movement afterwards was incidental.
The catch stuff in football keeps getting more and more ridiculous. The man caught the ball and didn't let it hit the ground at any point. He had it firmly secured at least one and maybe twice! What more can they ask of a receiver?
An absurd call that cost the Bengals four points. It may end up being massive. Officiating shouldn't make that big of a difference in a playoff game.