Referee Gets Punched in the Head, Knocked Down During Kickboxing Match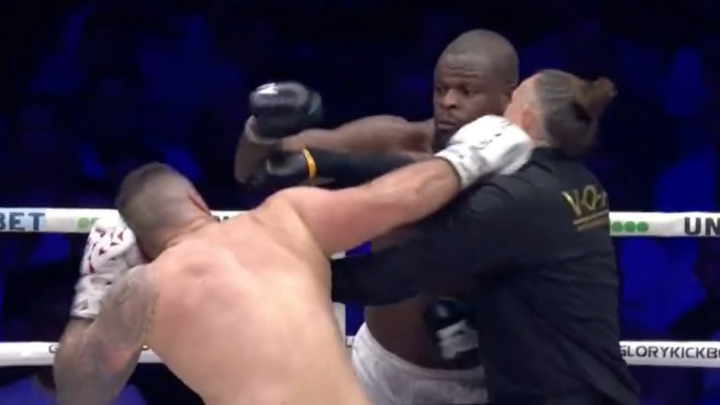 Tariq Osara beat Antonio Plazibat for an interim heavyweight championship in the main event of Glory: Collission 5 on Saturday in Rotterdamn, Netherlands. While Plazibat may have lost the fight, he did score the most noteworthy knockdown of the night when he hit referee Edward Strijkert in the head as he tried to break up the action at the end of a round.
Strijkert was dropped immediately before getting back up and heading to a neutral corner where he was checked out by the medical staff. Eventually, it was decided that Strijkert should not finish the fight since he had just been punched in the head by a guy who punches people in the head professionally, and another referee finished the fight.
I'm just guessing, but Plazibat must be the first kickboxer to knock a referee out of a fight and not be disqualified. Though he might wish he had been since Osara finished him off not long after. That'll teach him not to hit a defenseless referee.
Earlier in the day Strijkert posted a picture of the ring on Instagram with the caption, "Ready for Glory," but this cannot be what he meant. Though the fist emoji suggets this is exactly what he was prepared for.